June 27, 2019
IKEUCHI EUROPE at the METEC exhibition this week!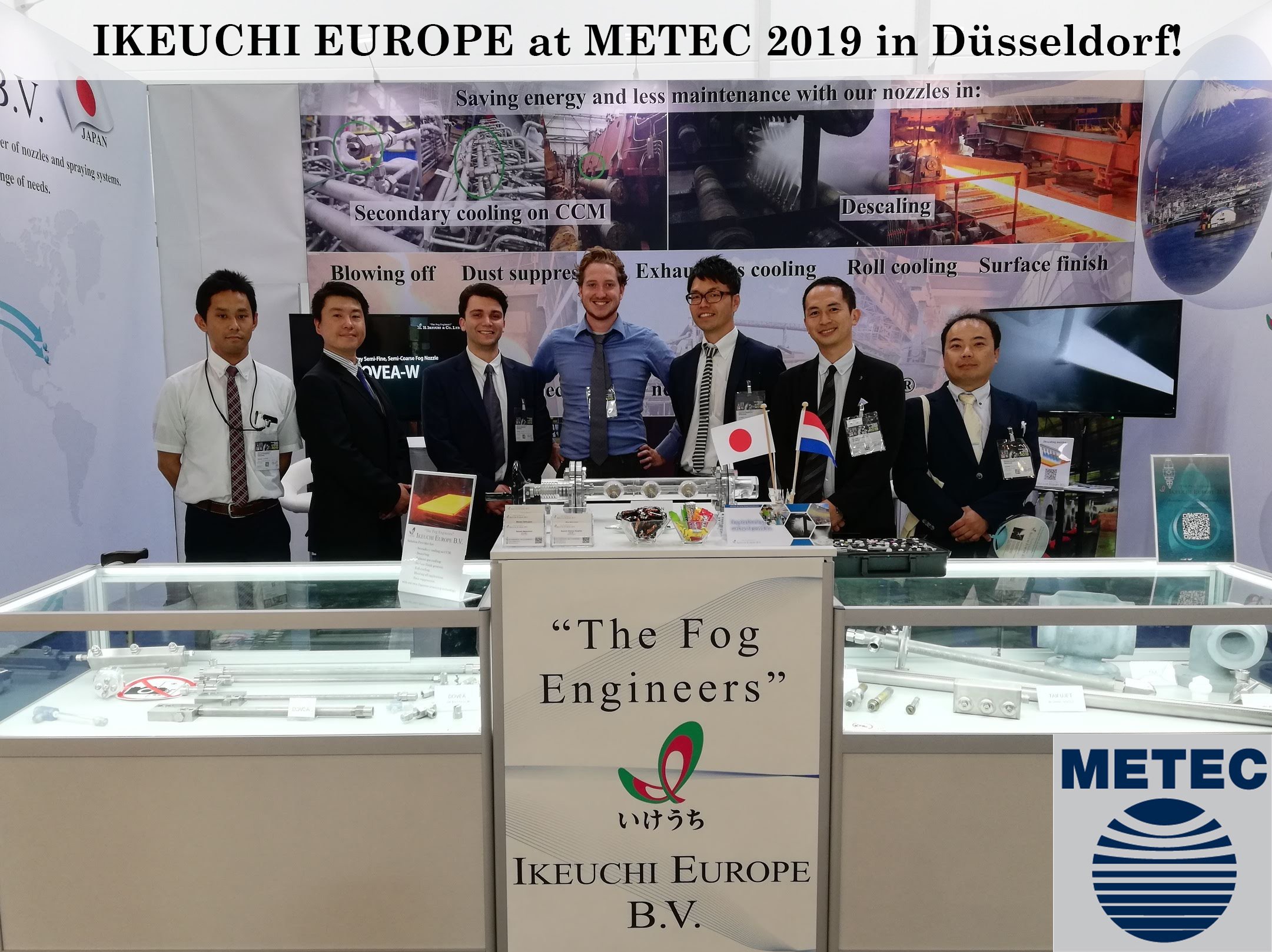 METEC exhibition – The world's metallurgical trade fair for metallurgy, steel casting and steel production.
From Tuesday until this Saturday, 29th of June, we are attending the METEC exhibition in Düsseldorf (Germany) with our Sales engineers of Europe and Japan (headquarters).
Take the opportunity to swing by our booth in Hall 3 C02 to discuss with them about your issues and news ideas for your steel production process.
What solution do we feature?
Our unique design descaling nozzle TDSS series
Why is it different from our competitors?
Longer lifetime thanks to its unique patented design
Water saving descaling nozzle using less water while achieving a higher impact
Descaling performance increase by reducing the angle of installation
Check out our demo video at our stand to see the spray impact of our descaling nozzle!
Maintain an even cooling and benefit from our nozzle's strong impact force for secondary cooling on CCM
Our nozzles provide an uniform spray distribution with a high impact as possible to ensure a smooth surface texture during the secondary cooling on CCM.
Save energy while maintaining a strong cooling performance, as our pneumatic (or hybrid) nozzles can still generate a strong spray impact without needing a high air consumption.
Check out our demo video at our stand to see the minimal variation in spray angle and distribution of the DOVEA series.
The self-cleaning BRASIKan® nozzle header for surface finish
Reduce your maintenance time while increasing your productivity with our automatic brush-cleaning nozzle header.
You can install it for degreasing, rinsing and pickling on the surface of steel plates.
Check out our demo video at our stand to see how effective the brush for the anti-clogging spray header can be!
Our iconic Dry Fog humidifier AKIMist® "E"
This humidifier is the ideal solution to increase the relative humidity in a room without wetting the machines nor the operators.
Let the fog drive you to our booth and experience the none-wetting Dry Fog by yourself!
More solutions, don't hesitate to ask!
We have many more solutions for the ironmaking and steelmaking processes: from the raw material and iron making process to the production of slab, billet, bloom, beam blank on the CCM ; plate mill and hot / cold rolling mill ; and finally the surface finish process on CGL, EGL and CCL.
We are here to listen to you. Visit our booth Hall 3 C02!