Applications
Disinfection of facilities with Fog

Purpose of disinfection of facilities
Sterilization of surfaces
Elimination airborne contamination
Prevention of virus and bacterial spread
Maintaining healthy environment
Disinfection of public areas, working spaces, communal rooms, manufacturing facilities
Disinfection of facilities without damaging / wetting the production and people thanks to small droplets sprayed
Sprayed droplets small enough to effectively destroy viruses and bacteria
Combined with an efficient disinfectant chemical solution to sterilize
Solution: Spraying systems from extremely fine fog to Dry Fog
By spraying a fine fog with diluted disinfectant chemical liquid*, our spraying units prevent viral infection.
From an extremely fine fog unit (SETOV Spray Unit) to our original Dry Fog unit (AKIMist®"E"), they can increase the humidity level of a room in order to efficiently disinfect.
Please follow the instructions of the disinfectant liquid when you spray indoor and outdoor, as well as your countries' regulations for disinfection application.
*we do not provide the chemical liquid
Examples of Systems / Products used for this application
Success Stories
In the entire Europe, thanks to the collaboration with Mendizza Water & technologie, RENTACS and RealTime Technologies, our disinfection unit are installed in offices, supermarkets, hospitals, and public areas to break down bacterial and viral loads from surfaces.
Portable and easy to handle, they are ideal for the disinfection of facilities such as hospitals and public spaces.
Benefits
Spot disinfection or ambient (full room)
Chemical resistant products
Low cost – operating costs are one fifth compared to conventional steam atomizers
Easy to operate and maintain
All-in-one solution with built-in compressor
For more information about existing installation against the COVID-19 spread: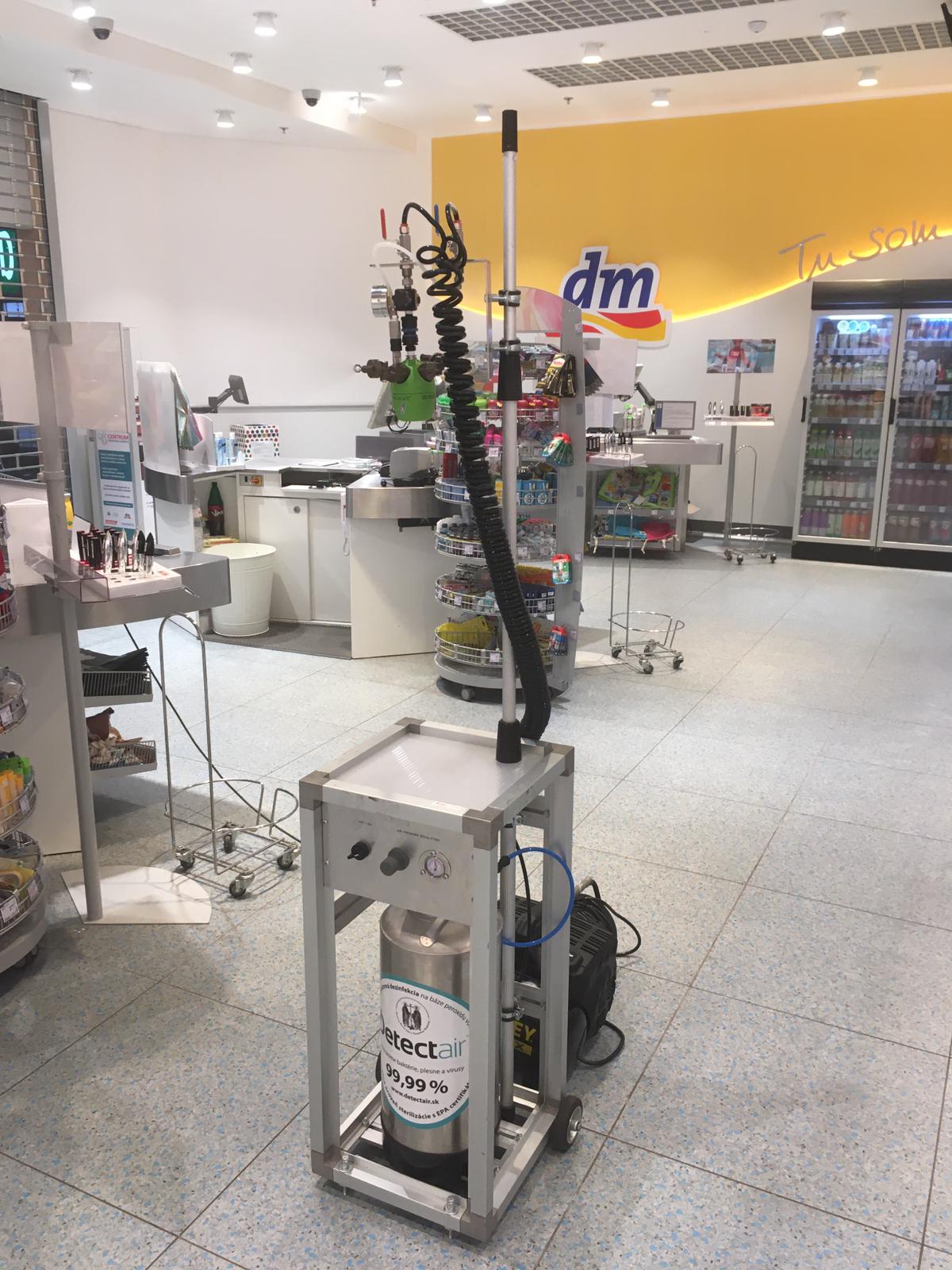 Additional line-up for disinfection of objects:
In addition to spatial disinfection with our fog sanitization units, we offer hydraulic nozzles for:
Hand disinfection (disinfectant with low viscosity, not suitable for gel basis):
Disinfection gate for workers: plastic nozzle
Disinfection gate for vehicles:
[WARNING] As we do not provide the disinfectant liquid, please follow the instructions from the disinfectant provider as well as your countries' regulations.