Highly wear resistance & Chemical resistance
High quality ceramic nozzles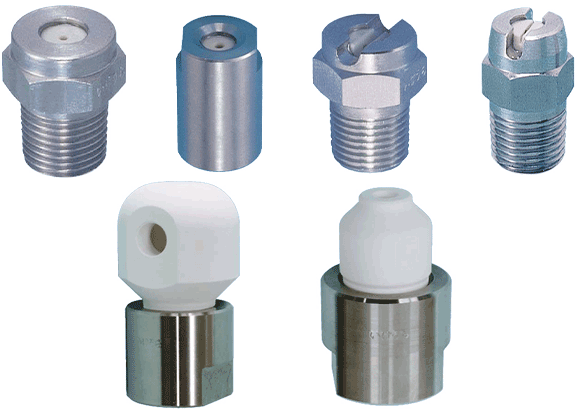 IKEUCHI has a long history of manufacturing ceramic nozzles as we were the first to insert a ceramic orifice into a spray nozzle. As part of hydraulic nozzles, we use advanced ceramic materials to produce full nozzles and orifices.
The great advantages of nozzles made of advanced ceramic are their high resistance to corrosion, to certain chemical, to high temperature, to abrasion, and its enhanced toughness. Thanks to its hardness being 9 on the Mohs scale, the abrasion resistance is more than 100 times higher than brass and between 20 – 30 times higher than stainless steel. This makes the material suitable for high-pressure cleaning.
Ceramic nozzles can be used for different application where having a high wear resistance is important. The bigger the wear in a nozzle, the greater the flow rate waste increases. Using a ceramic nozzle will save operating and running costs depending on the liquid sprayed.
Advanced ceramic materials used by IKEUCHI
CERJET® ceramic: CERJET® nozzles are resistant to most acids and highly corrosive liquids, with the exception of hydrofluoric acid and strong alkaline liquids from pH 12
92% – 99% Alumina ceramic: nozzles that are made of high purity alumina ceramic offer excellent wear resistance, stable performance, and long service life, even under high pressure conditions
Tungsten carbide: it is a super hard alloy ceramic material with high hardness and high wear resistance
Silicon carbide: it is the most corrosion-resistant ceramic and it can maintain its strength up to 1400°C
Read about the advantages of ceramic nozzles.
Contact us
various models (see at the bottom of the page)
0.06 – 826 L/min at standard pressure
one-piece 92% - 99% Alumina or Silicon carbide ; Stainless steel, PA or PVDF with ceramic orifice
Ceramic nozzles ideal when abrasive wear occurs
The spray nozzle head is always exposed to abrasion due to high velocity flows. If the liquid to be sprayed also contains slurry or impurities, abrasive wear will occur more quickly.
Our spray nozzles with ceramic material have an enhanced toughness which slows down the wear of the nozzles compare to standard steel nozzles. Worn nozzle increase the spray rate which can induce damages the product the customer is producing. In applications where high pressure is required, worn nozzles would reduce their performance and their cleaning ability would be impaired. For flat spray nozzles, increased nozzle wear would directly impact the spray angles and cause uneven coverage.
Wide range of applications
We design a variety of spray nozzles in full ceramic or with only a ceramic orifice, depending on the application.
For high-pressure cleaning, CERJET® nozzles with high abrasion resistance and ceramic orifice are the most suitable.
In applications where the liquid to be sprayed contains slurry, the inner part of the nozzle exposed to the liquid will erode quickly. That is why having the orifice, the whirler or the entire nozzle itself in ceramic is excellent for this type of application thanks to its toughness.
Depending on each series, ceramic nozzles can be used for cleaning, cooling, humidifying, creating a water curtain, controlling the humidity, descaling, suppressing dust, coating, irrigation, flue gas desulfurization, cutting, marking, chemical injection, deburring, etc.
Spraying products either with a ceramic nozzle orifice or full ceramic nozzle:
Have a look at each series to see which one is the most suitable for you, in the list at the bottom of the page:
Flat spray pattern

: from V series to DSP series

Hollow cone spray pattern

: from KB series to TWAA series

Full cone spray pattern

: from JUP series to AJP-AL92 series

Solid stream

: from CP series to CTM series
If you have question about our ceramic nozzles to understand if they are suitable for your application and their prices, contact us! Our regional sales engineers will take care of your request.
More information?
Do you want to order this product? Or request a quote?
Ceramic nozzle product series