Who are we? The Fog Solution Provider
At Ikeuchi Europe, we analyze customers' needs and assess the best solution adapted to their floor layout. Thanks to our experience and our R&D department, we deliver ideal, high-precision fog to the industrial world. We take it as our task to provide nozzles that are easy to use and with droplet diameters that can accommodate all purposes.
Tailor-made solutions
Are you in the need of an out-of-the-box solution to your unique problem? We will think together with you and come up with a tailor-made spray nozzle solution. Such a project will naturally involve extensive testing before settling on the final solution. We will not settle until the customer is satisfied.
What makes Ikeuchi unique?
68 years of experience in spray nozzles
More than 42.000 spray nozzles
Most precise spray capacity tolerance on the market
Japanese technology
Number 1 in Japan
Only company which offers warranty on spray patterns and spray angle
Covering a wide range of industries
Global presence and experience
Developed the first ceramic nozzle in the world
We offer a free consultation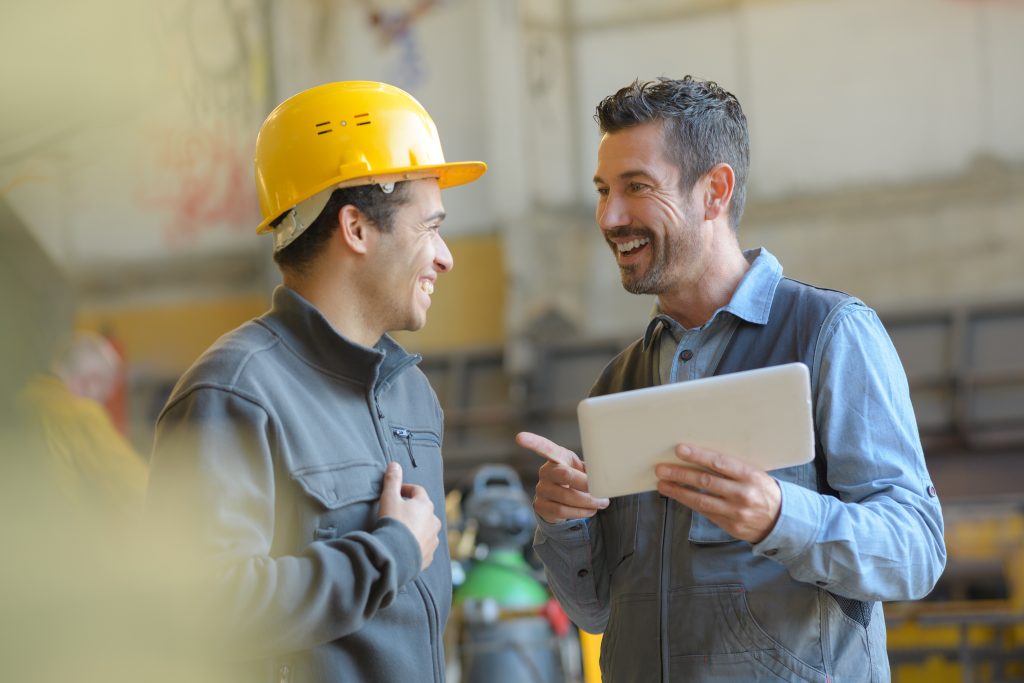 What are the Fundamentals for Selecting Spray Nozzles?
Each nozzle is designed to provide the specified
spray angle 
spray capacity 
optimum spray pattern 
and spray distribution, at each standard pressure*.
*The standard pressure varies per series and is indicated in the catalogs. It is defined as the design pressure based on the usual liquid pressure during normal use.
---
1. Spray Angle
It is the angle of spray measured near the nozzle.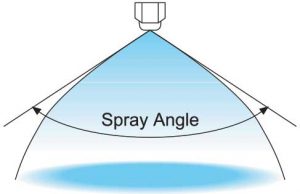 2. Spray Capacity
It increases as the specific gravity of the liquid sprayed becomes lighter and the spray pressure becomes higher.
---
3. Spray Pattern
It means the cross sectional shape of the spray. IKEUCHI categorize them in 4 different shapes:
Solid Stream Jet
Flat Spray
Hollow Cone Spray
Full Cone Spray
We have our original inspection standard for spray pattern. Only the nozzles that pass the inspection will be shipped.

---
4. Spray Distribution
It means the spray flow distribution in the direction of the spray width.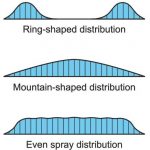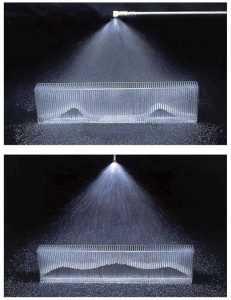 Classification of Spray Droplet Size:
IKEUCHI has classified the spray droplets size by
measuring their diameter.
(see the Classification of Spray Droplet Size in
p.3 of the Hydraulic Spray Nozzles Catalog)
This classification helps us to offer the right performance to the customer.
How to measure the Spray Droplet Diameter?
Mean droplet diameter varies depending on
the type of the spray nozzles,
liquid pressure,
and spray capacity.
It is an important element in selecting nozzles
and designing nozzle-related equipment.
We use two industrial methods to measure the droplet diameter:
immersion sampling method
and laser analyzer (Fraunhofer diffraction method and Doppler particle analyzer).