Nozzles for specific applications
The current category of nozzles for specific applications relates to products that are relevant in a specific industrial process. Depending on the industrial process, expert will recommend a certain suitable nozzle. However, the products within this category associate to very peculiar applications. Because of this, these spray nozzles do not belong in a major product category, and have been placed together within this group.
What products can you encounter in the group of nozzles for specific applications?
Within this group you can encounter the following products:
Pipe cleaning nozzles
Solution agitation nozzles
Water curtain spray nozzles
Steam driven nozzles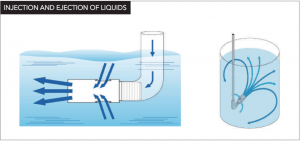 If you would like to find out more about these nozzles, we recommend entering on each individual product page. Each page contains the necessary amount of information to assist you in your journey. However, in case there are still doubt or queries, we are at your disposal.
At IKEUCHI, we provide the fundamentals to select the optimal nozzle for your application based on their characteristics. When selecting the nozzle, we advise you based on your required spray angle, spray capacity, optimum spray pattern, and spray distribution.
If you have technical question about nozzles, need advice to choose, or request a quote,