Nozzle for the Iron and Steel making industry
Steel is an essential product in our lives as we can find it everywhere, from building construction to even in our kitchen. Leading-edge technologies and know-how are required to produce the highest-quality and highest-performance steel products.
We help steel making manufacturers to produce uniformly high-quality products, create effective and cost-saving production lines, as well as ensure reliable, stable operation.
We developed spray nozzles for:
Steel cooling,
Energy-saving descaling,
Exhaust gas cooling,
Surface finish,
Pollution control,
Roll cooling,
and many other applications.
We have a wide range of quality spray nozzle that offers variable spray pattern depending on the type of steel produced: slab, billet, beam blank, bloom, round billet, etc. As iron and steel making has several processes, we adapt our solution of spray nozzle products to the request. Each manufacturing step has its challenge like clogging nozzles, increasing the productivity with better nozzle performance, reducing its energy consumption, etc.
How to stay competitive in the steelmaking industry in Europe?
In 2019 (already before the pandemic outbreak), the steelmaker ArcelorMittal raised the question to the European Commission: how to face the crisis?
Between higher prices of raw material, increase in steel imports flooding the EU continent, increase prices for carbon credits, lower demand from auto industry (which is also facing its own shutdowns), and the U.S. tariffs deflecting the shipments to Europe, the EU steel market is facing a though period.
Discussion about production cut offs, merger, separating capital goods division, saving costs, all these topics have the same goal: to stay competitive and profitable.
What are the solutions?
As the European Commission is working on anti-dumping and anti-subsidy measures to protect the EU industry from trade diversion, steelmaking industries themselves are looking for solution to manage their cost and save energy.
Nozzles and water consumption are a necessity to produce steel. From the raw material process to the surface finish, thousands of nozzles are used to spray industrial water to cool down, for descaling, cleaning, pickling, etc.
That is why as a nozzle manufacturer, IKEUCHI have been involved in the steelmaking industry since the 1980's to help our customers with innovative solution. As the demand for steel is getting more specific like high tensile strength steel, our R&D department develop more and more new technologies and engineering solutions to stay up to date.
Our spray nozzle products are offered in stainless steel material which has a higher heat resistance than brass. Ensuring a better quality of product is IKEUCHI's objective to help its customers in reaching their optimal productivity level.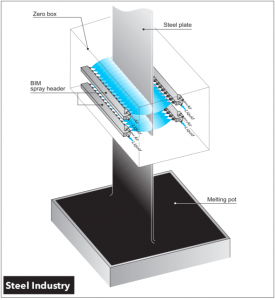 So how can we help you to stay competitive?
We have a wide range of products for each step of the process from which you can benefit to save your costs and reduce your maintenance time.
Our nozzles can help you:
Consume less air while maintaining a strong performance and increasing your steel quality (for pneumatic and air nozzles)
Consuming less water than with conventional nozzles but with a strong spray impact thanks to patented design (e.g. for descaling nozzles)
Reduce your maintenance downtime and cost with longer lifetime nozzles (for descaling) and self-cleaning header
Increase your productivity with operational and maintenance flexibility
Control the quality of steel thanks to uniform spraying of our nozzles (guarantee of spray angle and spray capacity on our hydraulic nozzles)
From our wide range of nozzle-based products and systems, we offer custom nozzle solutions adapted to each factories' working conditions. Share with us your needs and we will help you find the most suitable solution for your plant. You can download our catalog below or directly contact us.