Flat Spray Pattern Nozzles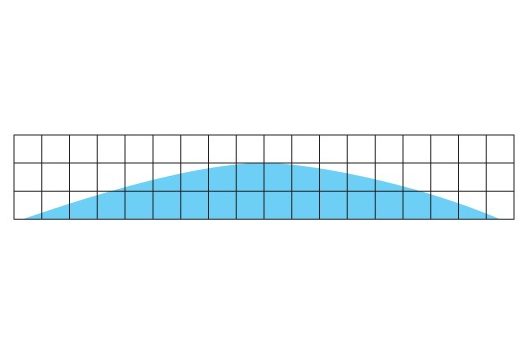 Tapered-edge spray distribution
Tapered-edge spray distribution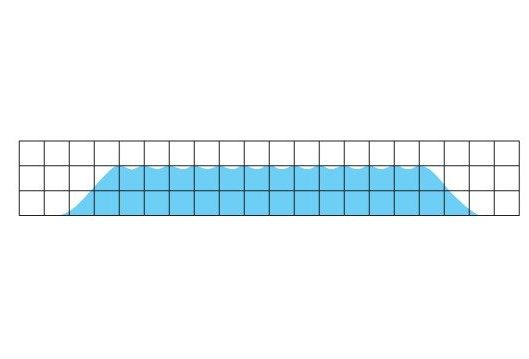 Even spray distribution
Even spray distribution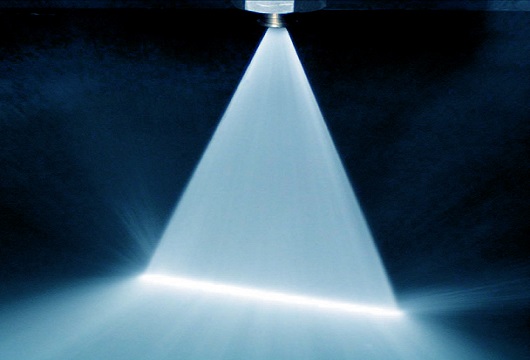 Descaling Nozzles
Descaling Nozzles
Flat spray nozzles, also known as flat fan spray nozzles, are a sub-category of hydraulic nozzles. We designed our hydraulic nozzles to spray water or other liquids. Thanks to their high range of possibilities, they can be applicable for various industries. However, the most common applications are:
cleaning;
spraying water or chemicals;
cooling;
paper or metal trimming, etc.
The flat spray pattern nozzles are designed to produce either a mountain-shaped spray or an even spray distribution. For example, a mountain-shaped distribution is effective in order to obtain a uniform spray distribution in a multiple-nozzle setting like with agricultural nozzles when spraying evenly pesticides. By making sure that the liquids are evenly sprayed, our customers benefits from these crop protection nozzles without overflowing them.
Although the distribution depends on factors, such as: spray height, nozzle spacing, liquid pressure, and liquid nature, it is not possible to get the desired spray distribution if the spray nozzles have some variation in product quality. Presently, the market of nozzles is saturated with types and models suited for various applications. One criterion that makes a distinguishing contrast is the guarantee of productivity and quality of that particular item.
That is why IKEUCHI's hydraulic flat spray nozzles are guaranteed for spray angles and spray capacities, maintaining the uniform distribution as designed.
Types of Flat Spray Nozzles
The flat spray nozzle is a one fluid nozzle, spraying through one single hole a jet that spreads and disperses in a mountain or even shaped form.
The flat spray nozzles are comprised of:
mountain-shaped spray distribution nozzles;
even-shaped spray distribution nozzles;
descaling nozzles.
Distinguishing fabrication features and materials
The materials from which the flat fan nozzles are fabricated, can vary from stainless steel, to multiple types of plastics. The stainless-steel nozzles are equipped in order to handle high temperatures. The plastic nozzle designs have a higher resistance to various chemical solutions and fluids, and thus, they are more recommended and suitable for these types of applications.
Moreover, the selected material and nozzle code have an influence over the nozzle size, as it differs from model to model.
The efficiency and performance of the nozzles are guaranteed for the capacities and angles of spraying under the standard pressure, regardless of the type of material. In addition, the efficient nozzle technology has made it possible to distribute a specific quantity of liquid within a certain amount of time (spray capacity), providing an impact over the designated area or surface. The degrees of coverage of the spraying angle varies for each type of flat spray nozzle, whether it has a mountain-shaped spraying distribution or even-shaped spray one.
Another point to be taken into account is the viscosity of the liquid, as the level of viscosity will have an impact over the flow rates, pressure, and angle of spraying. The technical details presented in our catalog are based on when a nozzle sprays tap water.
For nozzle recommendations based on spraying of a certain type of chemical liquid, please contact our experts. They will advise you on the most suitable nozzle material, spraying distribution, angle, capacity, model, and even accessories, such as nozzle holders.
By doing so, Ikeuchi is resolute to offer optimal nozzles tailored to the specific needs of your product and equipment.
At IKEUCHI, we have determined the fundamentals to select the right nozzle for your application based on their characteristics. When selecting the nozzle, we advise you based on your required spray angle, spray capacity, optimum spray pattern, and spray distribution.
If you have technical question about nozzles, need advice to choose, or request a quote,