Even spray distribution nozzles are flat spray nozzles. We designed the flat spray pattern nozzles to produce a controlled distribution in order to regulate the spray impact as needed. Although the distribution depends on spray height, nozzle spacing, liquid pressure, and liquid nature, it is not possible to get the desired spray distribution if spray nozzles have some variation in product quality. IKEUCHI's hydraulic spray nozzles are guaranteed for spray angle and spray capacity so that the spray distribution is maintained as designed.
The spray distribution means the distribution of spray flow in the spray width direction. An even spray distribution is suitable for applications like cleaning that require uniform spray impact across the entire spray width. Spray distribution varies depending on the spray height and pressure.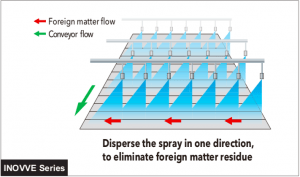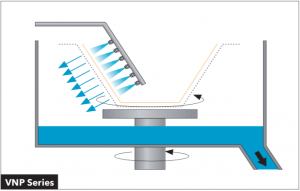 At IKEUCHI, we have determined the fundamentals to select the right nozzle for your application based on their characteristics. When selecting the nozzle, we advise you based on your required spray angle, spray capacity, optimum spray pattern, and spray distribution.
If you have technical question about nozzles, need advice to choose, or request a quote,