Even flat spray distribution nozzle is a included in the flat spray nozzles group. We designed the flat spray pattern nozzles to produce a controlled distribution that regulates the spray impact as needed. Thus, the spraying distribution depends on spray height, nozzle spacing, liquid pressure, and liquid's origin. Furthermore, it is not possible to get the desired spray distribution if the spray nozzles have some variation in product quality. Because of this, IKEUCHI's hydraulic spray nozzles are guaranteed for spray angle and spray capacity so that the spray distribution is maintained as designed.
What is an even flat spray distribution?
The spray distribution means the distribution of spray flows in the spray width direction. An even flat spray distribution is suitable for applications like cleaning that require uniform spray impact across the entire spray width. The spray distribution varies depending on the spray height and pressure. Moreover, the nozzles with an even or non-tapered spray distribution are applicable in settings without an overlap in spraying areas.
Types of even spray nozzles
Currently, our range of even flat spray nozzles includes products fabricated out of:
stainless steel,
plastic,
or stainless steel with a ceramic orifice.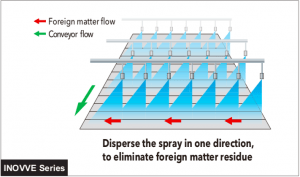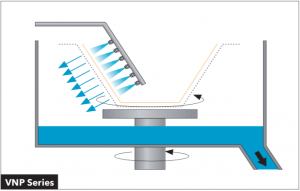 At IKEUCHI, we have determined the fundamentals to select the optimal nozzle for your application based on their characteristics. When inquiring about a nozzle, we advise you based on your required spray angle, spray capacity, optimum spray pattern, and spray distribution.
If you have technical question about nozzles, need advice to choose, or request a quote,