Applications
Disinfection of facilities with Fog

The impact of COVID19 on the world has been tremendous. Generally, a virus can easily spread and be transmitted through airborne microorganisms from one person to another, affecting the wellbeing of people and financial aspects of enterprises. As a safety measure in countering the spread of viruses, installing the proper disinfection systems can come in handy in protecting your employees and your business. Not doing so can have a huge impact on your organization, and the cost will be higher than that of purchasing and implementing a preventing system.
With the assistance of the latest nozzles technology, disinfecting has become an accessible and easy solution to implement, applicable within various industrial environments. Depending on the selected solutions, some you can operate automatically, thus removing the need or requirement of an operator or manual labor cleaners. By automating your processes, you reduce the risk of contamination and increase the process efficiency.
What products can assist you with disinfection?
Currently we can offer you two possibilities that can assist you with deep cleaning disinfection:
Purpose of facilities' disinfection
Sterilization of surfaces
Elimination airborne contamination
Prevention of virus and bacterial spread
Maintaining healthy environment
Disinfection of public areas, working spaces, communal rooms, manufacturing facilities
Disinfection of facilities without damaging / wetting the production and people thanks to small droplets sprayed
Sprayed droplets small enough to effectively destroy viruses and bacteria
Combined with an efficient disinfectant chemical solution to sterilize
Industrial fogging and spraying disinfectant machines
The dry fog of the AKIMist® "E" TN or the extremely fine fog of the SETOV unit should not be confused with fogger machines. A fogging machine is a device used for disinfection or pest control that neutralizes viruses and bacteria. In the case of a fogger machine disinfectant is added by an operator. The operator must carry the device and manually manage the pulverizing of the disinfectant liquid. Moreover, the droplet size can depend on the brand and application. From the fogging machine category, we can mention the following products:
Thermal fogger device
Electrostatic sprayer device
Thermal foggers are manual carry-on disinfectant foggers that produce ultra-fine fog clouds (thick and dense fog) by utilizing thermo-pneumatic energy. They are applicable for pest control.
Another product from the disinfectant category for infection control is the electrostatic sprayer. This product is also a manual carry-on and is applicable with disinfectant spraying fluids such as hydrogen peroxide vapor or chlorine gas. The droplet size of these types of sprayers can vary between 20 and over 40 microns. However, various questions arise regarding its applicability as a disinfection product as its ability to combat a virus is effective as long as the chemical disinfectant is sprayed. These challenges are related to:
Wetting the surfaces
Creating electrostatic charges
Reduced disinfectant efficiency
Affecting the wellbeing of the operator as the particles can be inhaled;
The use of hydrogen peroxide and chlorine sprayed in high quantities may produce a hazardous situation (Click here to read the full article of the EPA).
Other products that can be germane to disinfection:
UV disinfection systems
Industrial Steam cleaners
A UV disinfection system can assist in killing bacteria. However, according to the FDA, it's not effective for certain viruses, such as the SARS-COV-2. Moreover, the UV lights can affect the human body due to prolonged exposure. Although there are certain benefits for implementing such as system, the downside is that it requires a high level of energy consumption.
For the industrial steam cleaners, or steam-based humidifiers, although it is efficient and quick in killing viruses and bacteria, the major disadvantages of selecting such a system relate:
to the high temperatures of spray,
the fact that it leaves the surrounding object moist and wet,
and also the increased cost in water consumption and electricity.
Spraying systems from extremely fine fog to Dry Fog
By spraying a fine fog with diluted disinfectant chemical liquid*, our spraying units prevent viral infection.
From an extremely fine fog unit (SETOV Spray Unit) to our original Dry Fog unit (AKIMist®"E" TN), they can increase the humidity level of a room in order to efficiently disinfect.
Please follow the instructions of the disinfectant liquid when you spray indoor and outdoor, as well as your countries' regulations for disinfection application.
*we do not provide the chemical liquid
Advantages of selecting Ikeuchi's products
IKEUCHI's products can provide you with the necessary expertise and solution that you require.
The SETOV spray unit is applicable for indoor humidification or moisture conditioning in indoor facilities such as:
Public facilities
Commercial facilities
Manufacturing processes
Corridors, offices, restrooms, and other indoor facilities
The product is automated, which increases the efficiency, and its Semi-Dry Fog® provides the best results for disinfection. Why? When utilized for disinfection, the suitable place to install the product is at the buildings' entrance. Its spraying will counter the bacteria and viruses from getting in, and it is very effective as it does not wet the sprayed surface. Moreover, the unit is recommended for other applications.
Another option for disinfection is the selection of the AKIMist® "E" TN. The product is equipped with pneumatic nozzles that provide a non-wetting Dry Fog, developed through impingement. Moreover, the product size doesn't require a lot of space, and it can be easily installed and applicable in multiple industries. Depending on the type of utilized chemicals, its nozzles are fabricated from titanium and can support the corrosive impact of the applied liquid. And if you need a product to move around in different facilities or indoor environments, it can also be offered as a portable Dry-Fog unit version.
What benefits do you receive from IKEUCHI's industrial disinfectant spray machines?
Benefits
Spot disinfection or ambient (full room)
Chemical resistant products
Low cost – operating costs are one fifth compared to conventional steam atomizers
Easy to operate and maintain
All-in-one solution with built-in compressor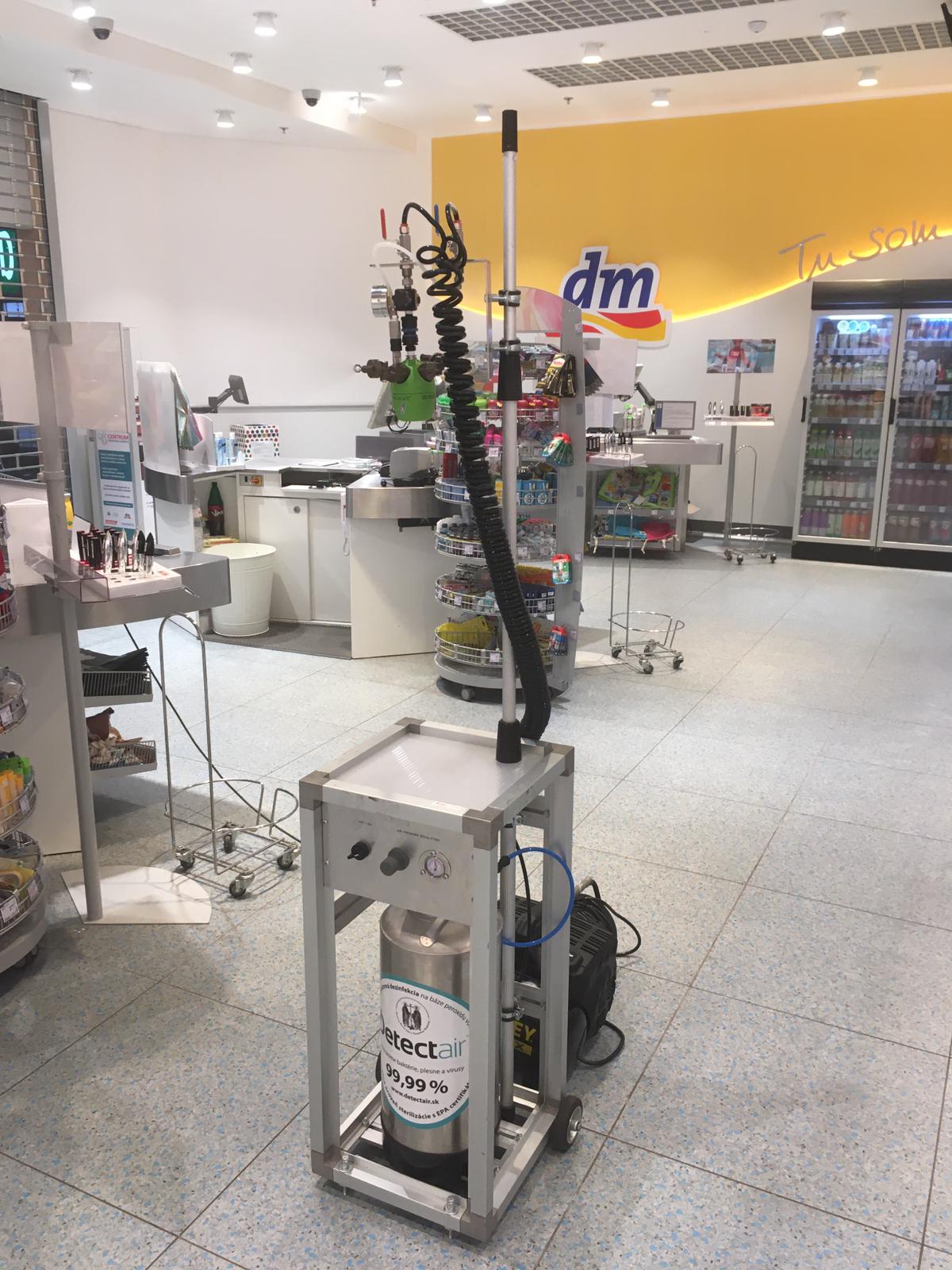 Additional line-up for disinfection of objects:
In addition to spatial disinfection with our fog sanitization units, we offer hydraulic nozzles for:
Hand disinfection (disinfectant with low viscosity, not suitable for gel basis):
Disinfection gate for workers: plastic nozzle:
Disinfection gate for vehicles: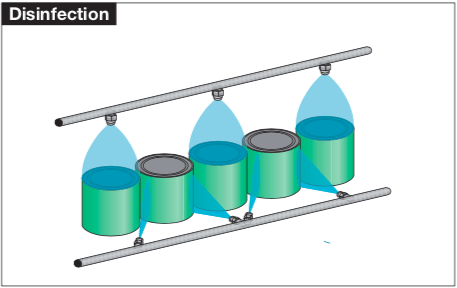 VEP – JJXP : Full cone top, flat spray size on the conveyer belt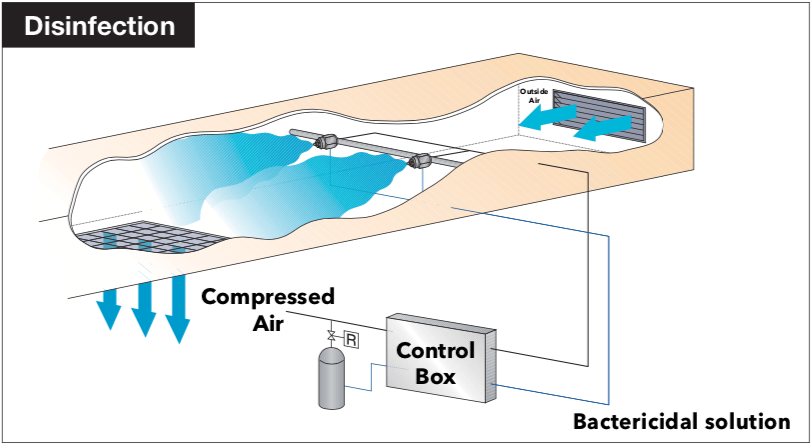 BIM series 45′ in a compressed air ventilation system
[WARNING] As we do not provide the disinfectant liquid, please follow the instructions from the disinfectant provider as well as your countries' regulations.
Success Stories
Our products are not only recommended for the industrial segment, as they can also serve their purpose in public buildings and spaces.  In the entire Europe, thanks to the collaboration with Mendizza Water & technologie and RealTime Technologies, our disinfection unit are installed in offices, supermarkets, hospitals, and public areas to break down bacterial and viral loads from surfaces. Portable and easy to handle, they are ideal for the disinfection of facilities such as hospitals and public spaces.
For more information about existing installation against the COVID-19 spread: