Tapered-edge spray distribution
Mountain shaped or tapered-edge spray distribution nozzles are belonging to the flat spray nozzles category. Furthermore, The design of the flat spray pattern nozzles produces a tapered-edge spray distribution that provides a uniform spray distribution in a multiple-nozzle arrangement. However, the distribution depends on spray height, nozzle spacing, liquid pressure, and liquid's origin. In this case, it is not possible to obtain the desired spray distribution if the spray nozzle's quality is not assured. In this case, IKEUCHI's hydraulic spray nozzles are guaranteed for spray angle and spray capacity so that the uniform distribution performance is maintained as designed.
What is a tapered-edge spray distribution?
The spray distribution relates to the distribution of spray flow in the spray width direction. To further explain, a tapered-edge spray distribution is useful in producing uniform spray distribution across the entire spray width. This is possible as the spraying nozzles have overlapping patterns in a multiple-nozzles arrangements. Moreover, the spray distribution varies, depending on the spray height and pressure.
Types of tapered-edge nozzles
The products from this sub-category of tapered-edge distribution spray nozzles distinguish themselves based on multiple factors, such as:
Angle
Application
Automation (on/off)
Fabrication material
Pipe connection size
Self-cleaning
Spray capacity
Strainer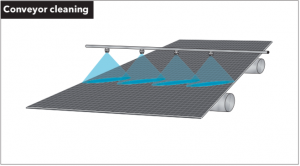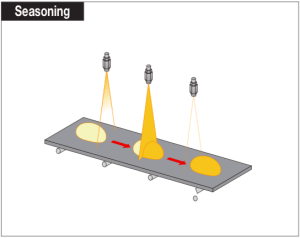 At IKEUCHI, we provide the fundamentals to select the optimal nozzle for your application based on their characteristics. When inquiring about a nozzle, we advise you based on your required spray angle, spray capacity, optimum spray pattern, and spray distribution.
If you have technical question about nozzles, need advice to choose, or request a quote,