Quick-detachable standard flat spray w/ ceramic orifice
INV series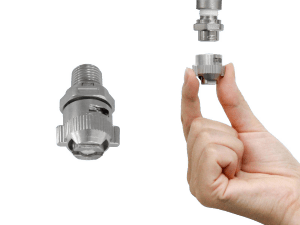 The INV series nozzles' features:
Flat spray pattern with a mountain-shaped spray distribution having gradually tapered edges.
Quick-detachable design helps to greatly reduce maintenance time.
Easy mounting/dismounting with a knurled tab.
No falling off of tip or packing when removing the nozzle part.
Nozzle body and adaptor are made of stainless steel which provides high heat resistance and durability.
Nozzle orifice is made of high wear resistant ceramic.
Download CAD model
Contact us
The INV series nozzles have multiple applications:
Cleaning: Automotive, containers, films, felts, filters, screens, bottles, crushed stones, earth and sand, metal parts, machines, steel plates and pieces
Spraying: Oils, lubricants, glues, insecticides, herbicides
Cooling: Tanks, roofs
Water screen: Dust suppression, deodorization
For the applications where precise spray alignment and/or periodic maintenance is required
More information?
Do you want to order this product? Or request a quote?