Applications
Dust control in factory

Issues related to dust in working environment
Why do you need dust control?
Dust related defects
Decreased productivity
Increased maintenance
Airborne contamination
Substance contamination (powder form)
Loss of raw material (powder form)
Safety hazard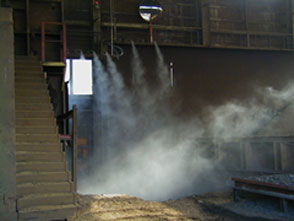 Dust suppression in a recycling factory
Solution: Dust control by spraying Semi-Dry Fog® to Dry Fog
Airborne dust particles can cause a range of issues and are difficult to contain, especially in outside environments. Suppressing or containing dust can be done by either lightly wetting the substance you wish to contain, or by fogging. When suppressing dust via fogging, our humidification systems spray small water droplets the same size as dust particles. These water droplets collide with the dust particles mid air and weigh them to the ground.
Examples of Systems / Products used for this application
GSIM series Pneumatic nozzles are capable of dust suppression without significantly wetting the environment by spraying droplet size of 40 – 80 um in large volume swiftly.
AirAKI® Industrial humidification system, it sprays Dry Fog with an average droplet size of 10μm or less.
BIM series Pneumatic nozzle, BIM nozzles produce extremely fine droplets ranging from 10 to 100 μm. We can adapt to a wide range of operating conditions.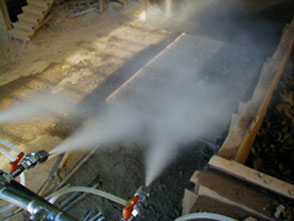 BIM series nozzles creating a fog curtain to suppress dust
Benefits
Low cost dust suppression solution
Avoid loss of raw material (powder form)
Avoid dust related defects
Prevent hazardous airborne contamination
Easy maintenance
Improve the working environment
Dust control in specific industry