Applications
ESD prevention with fog

Issues related to ESD in sensitive working environment
What are the consequence when electrostatic discharge (ESD) happen?
Product defects

 

Mounting error

Losing reliability of product quality

 from the 

final client

 

Energy cost of air conditioning

 to avoid ESD

Possibility of starting a fire in a sensitive environment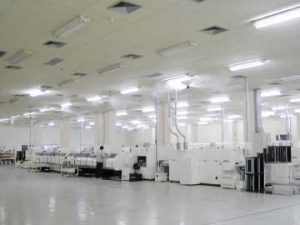 SMT line
Solution: Humidification system to suppress and prevent electrostatic discharge (ESD)
Keeping proper humidity in a whole year helps the generated electrostatic to be quickly dispersed and released into the atmosphere. Proper humidity makes static potential lower and electrostatic discharge comes to less arise.  
Example of Systems / Products used for this application
AirAKI® Industrial humidification system, it sprays Dry Fog with an average droplet size of 10μm or less. Dry Fog does not make wet and rust for any machines, floor, and wall. The AirAKI contributes energy-saving humidification and air-cooling. At the semiconductor factory, there is huge amount of humidification and air-cooling but the conventional atomizing system cannot keep the factory with constant humidity. Using RO water, the system achieves less maintenance of nozzles and less maintenance cost.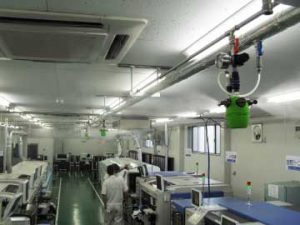 AirAKI® system with the Dry Fog humidifier AKIMist®"E"
Benefits
Productivity improved
Quality stabilized
Prevention of ESD destruction

Energy saving

 

Less maintenance frequency and cost
Related articles
We've covered the topic of static electricity, its consequences, and what to do to prevent ESD in several articles in our News section. If you want to learn more about this, here is our compilation of articles:
ESD Prevention in specific industry