Applications
Dust suppression systems for industrial manufacturers

Suppressing dust emissions is crucial in some manufacturing processes. There is a wide range of dust particles that can contaminate a production process such a fugitive dust, organic dust, mineral dust, metallic dust, chemical dust, biohazard particle, etc., which can reach a diameter from 1 to 100 µm in size. All these airborne dust particles need adequate dust control measure as they move in a room (indoor or outdoor) differently depending on their size and the influence of gravity. Dust management equipment can vary from water application to chemical additives for dust abatement. Or dust control chemical suppressants when it comes to dust emissions from unpaved ground surfaces.
As a nozzle manufacturer, we offer effective dust suppression solution with our industrial spray nozzles to control dust particles in factories. They are several suppliers of dust control solutions, but our high-quality nozzles will improve the efficient of our dust control equipment.
Issues related to dust emissions in working environment
Why do you need dust control measure?
Dust related defects
Decreased productivity
Increased maintenance
Airborne contamination
Substance contamination (powder form)
Loss of raw material (powder form)
Safety hazard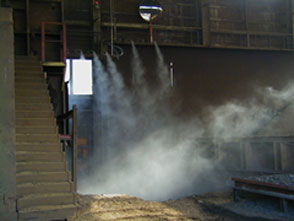 Dust suppression in a recycling factory
Implementing a dust control measure has a double objective. It will not only reduce operating costs and improve the production processes by avoiding dust contamination, ESD sparks, dust related defects and repairs, but it will also considerably improve the working environment for operators.
Solution: Dust control equipment by spraying Semi-Dry Fog® to Dry Fog
Airborne dust particles can cause a range of issues and are difficult to contain, especially in outside environments. Suppressing or containing dust can be done by either lightly wetting the substance you wish to contain or by fogging.
When suppressing dust via fogging, our dust suppression systems spray small water droplets the same size as dust particles. These water droplets collide with the dust particles mid-air and weigh them to the ground. We use our high-quality pneumatic nozzles and humidification units to spray a fine fog or Dry Fog as dust suppression products.
Examples of Dust suppression products used for this application
GSIM series Pneumatic nozzles are capable of dust suppression without significantly wetting the environment by spraying droplet size of 40 – 80 µm in large volume swiftly.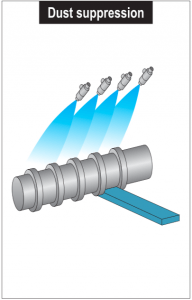 AirAKI® Industrial humidification system, it sprays Dry Fog with an average droplet size of 10 μm or less.
BIM series Pneumatic nozzle, BIM series produces extremely fine droplets ranging from 10 to 100 μm. We can adapt to a wide range of operating conditions.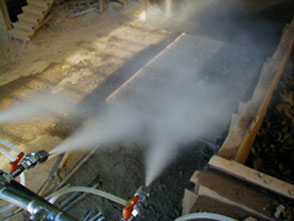 BIM series nozzles creating a fog curtain to suppress dust
Benefits of dust control systems
Low-cost dust suppression solution
Avoid loss of raw material (powder form)
Avoid dust related defects
Prevent hazardous airborne contamination
Easy maintenance
Improve the working environment
Depending on your working environment, the type of factory, the type of raw materials you are handling, we have different nozzle solution that we adapt to each request. In order to offer the adequate solution to our customer, our sales engineers analyze individually each request, floor plan, type of production process before offering an efficient solution.
If you have a dust control project, questions about one of our dust control systems or simply want to get a site assessment, don't hesitate to contact us! One of our regional sales engineers will assist you.
Dust control in specific industry