July 3, 2023
What is an air atomizing spray nozzle?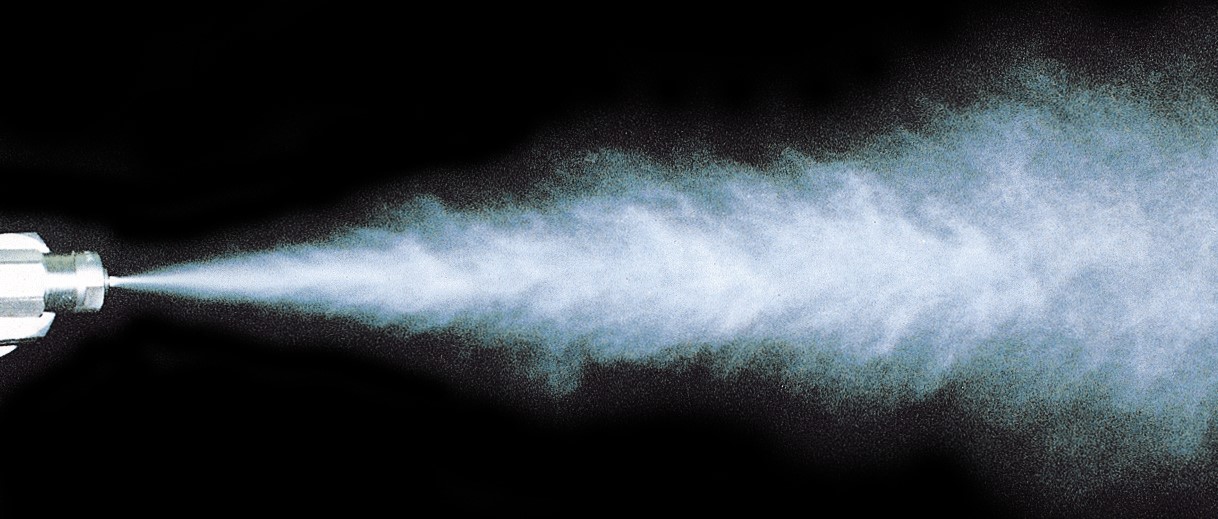 An air atomizing spray nozzle (pneumatic spray nozzle) utilizes a high velocity flow of compressed air and has a number of features compared to a hydraulic spray nozzle:
Excellent atomizing performance
An air atomizing spray nozzle is capable of producing fine atomization with a mean droplet diameter of 10 μm or less, which is difficult with hydraulic spray nozzles.
Large turn-down ratio
Air atomizing spray nozzles have large turn-down ratios of spray flow-rate with little variation in droplet size and spray distribution. This makes them ideal for spray flow adjustable nozzles.
Large free passage diameter
Air atomizing spray nozzles have larger free passage diameters than hydraulic spray nozzles, which is effective for reducing clogging problems
---
What type of liquid can  be applied?
Water
Deoderant
Alcohol
Anti-electrostatic agent
Aqueous amonia
Surface treatment agent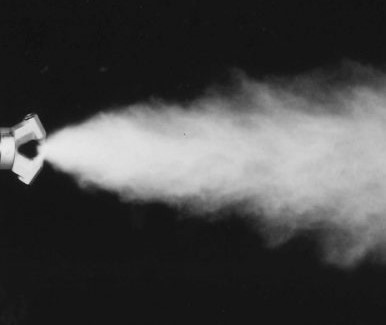 What type of gas can be applied?
Compressed air (most common)
N2
Steam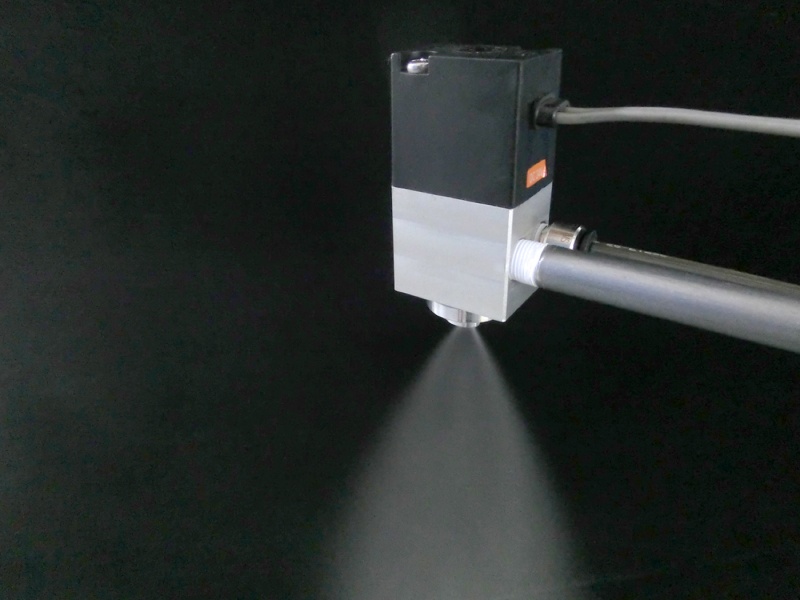 Air liquid mixing systems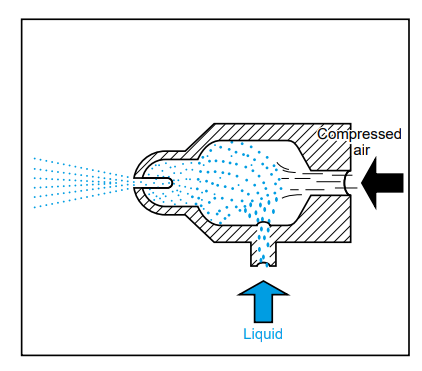 1. Inner air type
Compressed air flows in the center of the nozzle, while liquid flows along its circumference. This type provides an important benefit with a larger free passage diameter which minimizes clogging.
2. Outer air type
Liquid flows in the center of the nozzle, while compressed air flows along its circumference. This type of nozzle is selected for wide range of applications. Larger orifice size can be designed on demand while the spray droplets become a little coarser.
3. Pre-mix type
Even at a low air-water ratio, the increased velocity of the droplets results in a strong impact force. Furthermore, the turn-down ratio is larger and this type is suitable for cooling objects in high temperature range.
External mixing type
Compressed air and liquid are mixed outside the
nozzle. Hence, this type clogs the least. This is also
classified into inner air type and outer air type.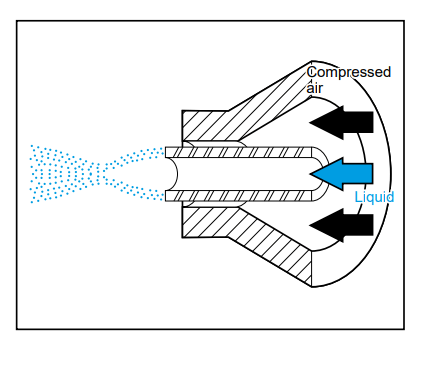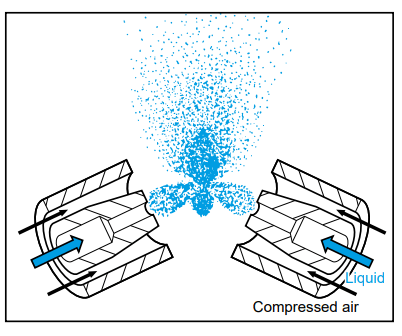 Impinging type
Air-stream entraining fine fog jets out from the
nozzle and impinges against another air-stream of
the same nature for shattering the fog into even
finer, more-uniform droplets. This is an original invention by Ikeuchi. Read more here: AKIMist 
 Liquid pressure system
This systems uses pressurized liquid method where a pressurized liquid is supplied separately to a pneumatic nozzle.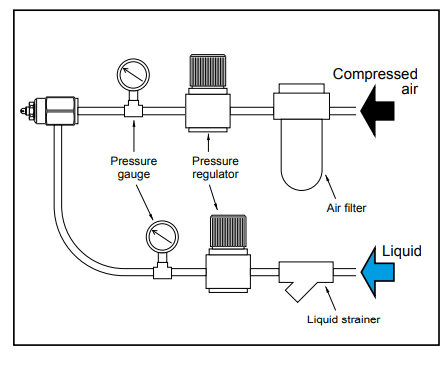 Liquid siphon system
This system uses uses compressed air to suck up liquid. The spray capacity differs depending on liquid
siphon height (H).
Spray pattern means the cross sectional shape of the spray. As illustrated, spray patterns are available in cone spray (hollow cone spray and full cone spray), flat spray, and liquid film-like spray.
It is important to select a spray pattern suited for each application, thus, delivering the optimal nozzle performance.
Hollow cone spray and full cone spray patterns are suitable for applications such as humidification, cooling gases, chemical reactions, and moisture control.
Flat spray pattern and film-like spray (laminar sheet of water) are suitable for cooling and coating.
The spray patterns of pneumatic spray nozzles deform significantly as the distance from the nozzle becomes greater.