Benefits of the AKIMist® Dry Fog Humidification

As "The Fog Engineers", IKEUCHI is renowned for its original and unique Dry Fog system called AKIMist®. Since 1979, when the innovative ultra-fine fog nozzles AKIJet® (patented worldwide) was invented, AKIMist® was successfully installed in factories worldwide.
Its unique non wetting fog is ideal for a wide range of industries: from clean rooms to electronics, automotive, plastic making, and even mushroom farming!
Dry Fog humidifier AKIMist® – General benefits
Accurate humidity control of large areas:
The system enables the most suitable and optimal humidification solution without wetting thanks to the skill-rich engineering design and the Dry Fog which is the tiniest and the most stable droplets (7.5μm on average).

Reduced CO2 consumption:
Thanks to its cooling effect, the cooling load is reduced by 2°C, which represents 580 tons* of CO2 saved from air conditioning unit.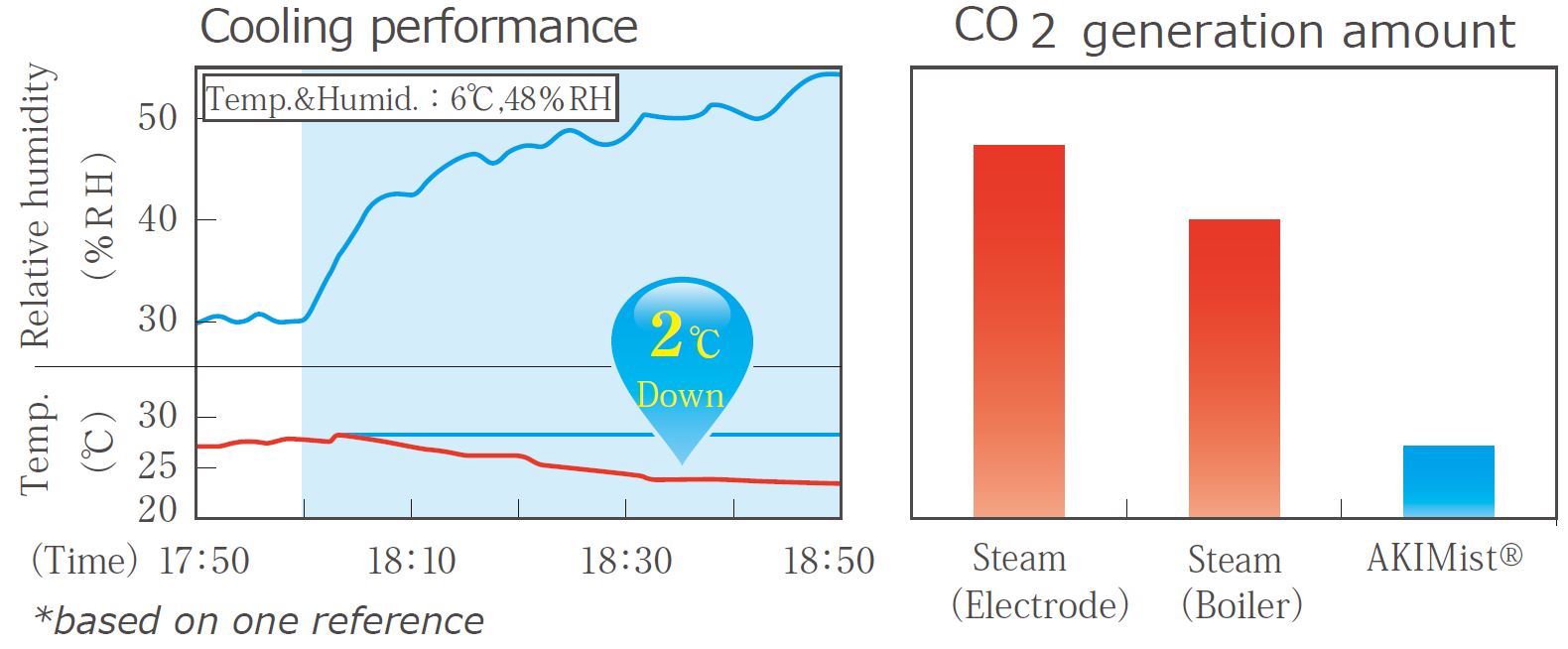 Reduced air conditioning cost significantly:
60.000EUR of running cost saved in a year by replacing the steam type of system to the Dry Fog AKIMist® system.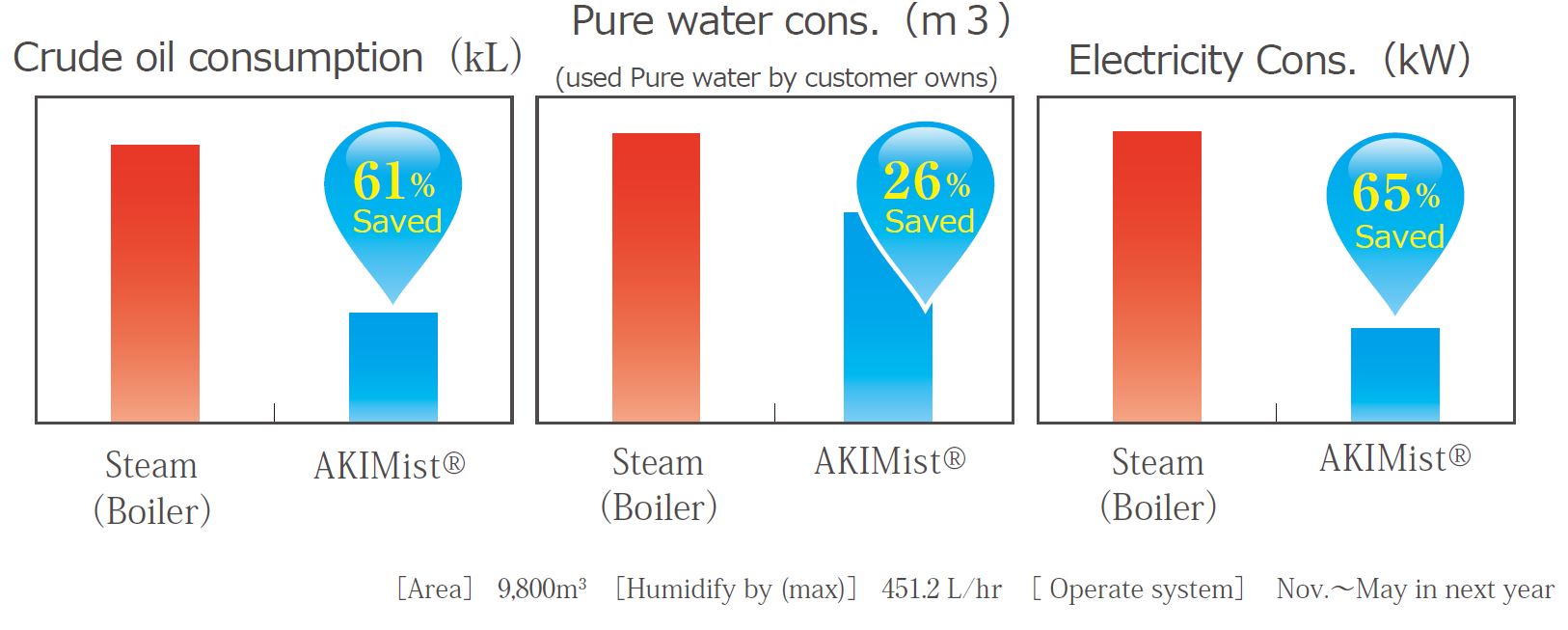 Testimonials regarding the Benefits in terms of Productivity and Operational improvement rate
Here are the main benefits that have been noticed on customers' sites for 5 different industries.
Printing industry
Improvement by 40% of RPM on Rotary Press thanks to a reduction of shutdown caused by ESD
Product quality improved thanks to a decrease in operational issues caused by ESD (like back printing, whiskers, etc.)
Decrease dust adhesion issues on films and papers (Reduction of streak defect)
Enabled to operate with thinner materials which are more sensitive for ESD
Improvement of folding quality with the defect reduced to 1/3
Stable paper quality and shortened registration time due to less shrunk on materials
Zero defect of misalignment at stacker band
Reduced the issues of double feeding and misalignment, Improvement of productivity improved
Improved printing stability and misalignment reducing reprinting and color shift issues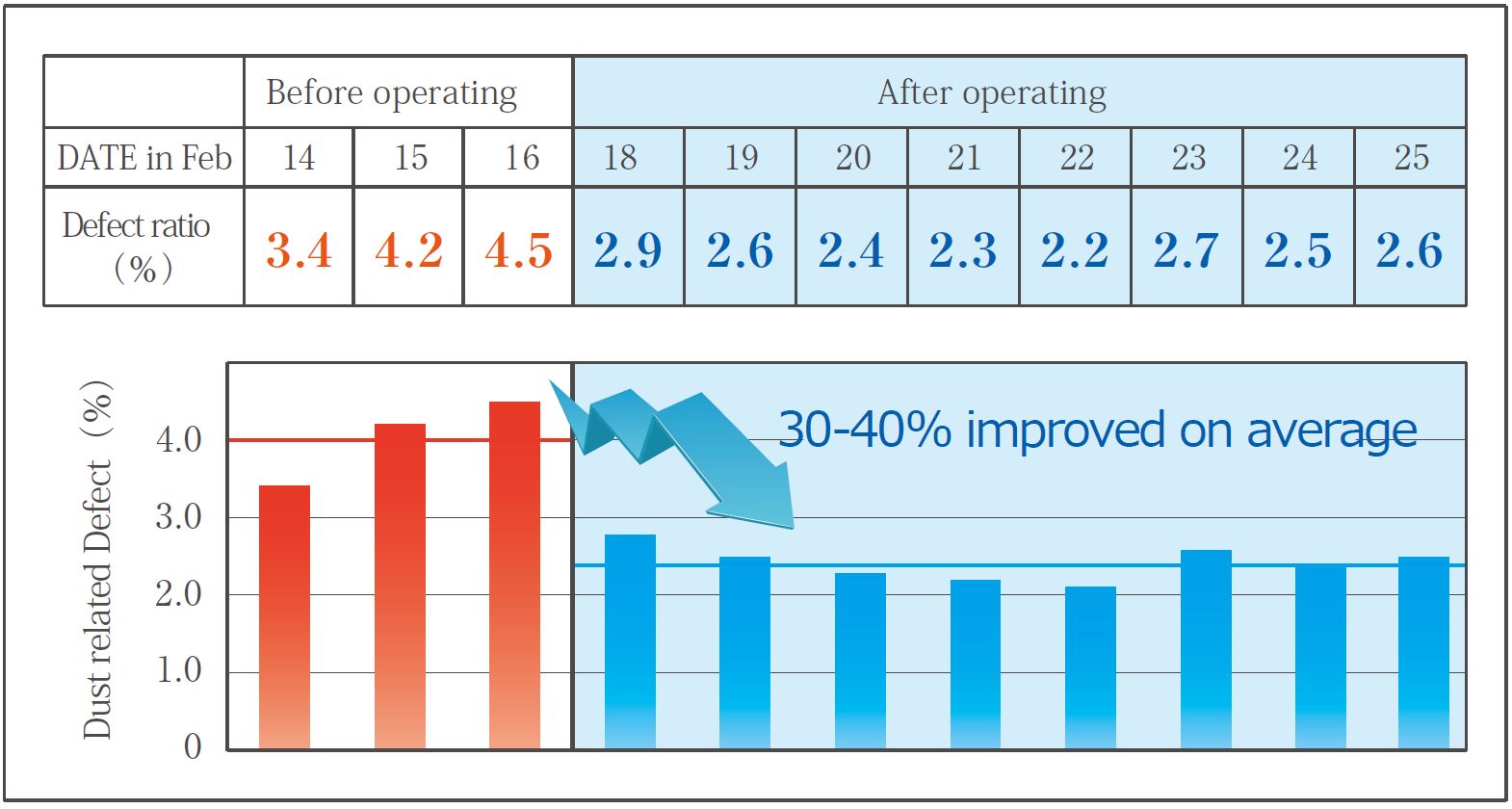 Dust related defect improved by 30-40% on average and waste due to defects reduced by 1.5%
More details about different printing devices
Electronics industry
Drastically improved ESD related issues and damages due to electrostatic breakdown
Decrease in defect rate due to Zero circuit damage caused by dust adhesion in the assembling process of PCB
Reduction by 30% in air conditioning cost in production area thanks to the AKIMist®'s cooling effect
Ideal environment for products by keeping a stable humidity level at 60% (+/- 3%) RH
Fully adjustable installation for humidity requirement even when machines and devices are relocated/ renewed

Improved Mis-mounting defect
More details about the electronics industry process
Plastics industry
Reducing risk of firing in foaming and cutting after injection, and in printing processes
10%+ of productivity increased thanks to reduced risk of fire on flammable solvent
Reduced defect rate due to sticking after molding, Inspection process improved by 10%
Time spend on packing task in shipping process reduced by 10% thanks to less ESD on products
More stable quality of products with less time of inspection thanks to less defects regarding foreign particles stuck in production
Defect ratio improved by 5%+ thanks to no dust adhesion during the film manufacturing process

Less electrostatic charges, Better productivity
Painting industry
Drastically improved the risk of firing in ink stores, mixing rooms, and filling processes
Safety improved and risk of ignition drastically reduced around the reaction kettle and mixer
Productivity increased by 10%+ in painting area thanks to a reduction in dust adhesion issues
Paint quality improved thanks to a reduction by 20%+ of dust related defects
Cissing related defects and repelling occurrence in the painting process down to Zero
Significant decrease of absenteeism rate in winter with less employees catch colds
Maintenance cost saving of ca. 15,000 EUR on an annual base, by replacing the boiler steam humidification system to the AKIMist® humidifier
Dust related defect reduced drastically
More information about painting in the Automotive industry
Packaging, Cardboard industry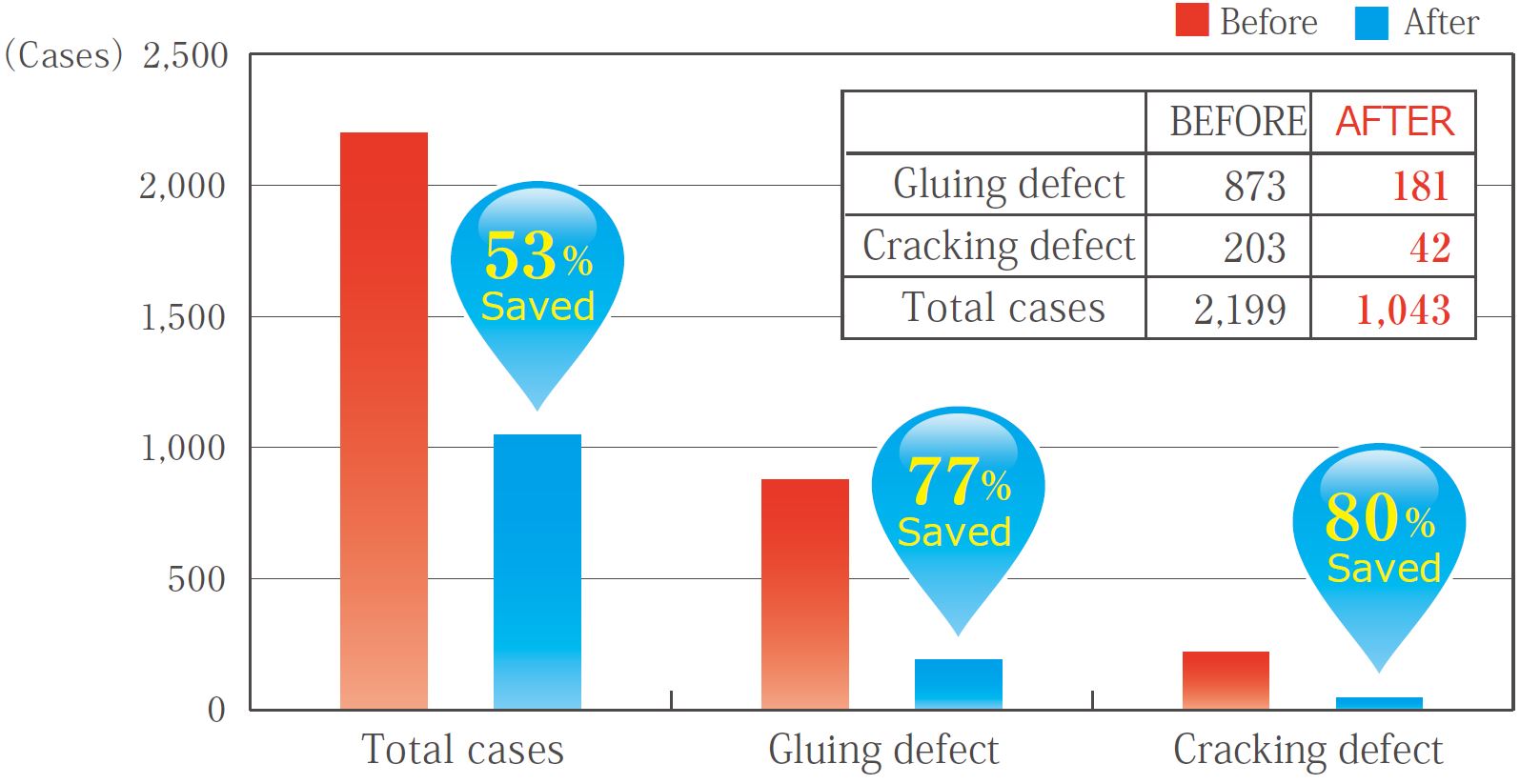 Preventing defects such as cracking, poor gluing, and others related to insufficient humidity
If you have issues related to a lack of humidification in your factory, contact our engineers for a technical assessment of your plant!