The Dry Fog humidifier AKIMist®"E" in textile industry

Customer Testimonial: PT.Jesi Jason Surja Wibowo
Pt. Jesi Jason Surja Wibowo (JJSW) is a spinning manufacturer located in Boyolali, Central Java in Indonesia. All the manufacturing facilities are equipped with brand new, state-of-the-art machines from Japan and India to produce carded and combed Ne 10 – Ne 40 count cotton.
JJSW exports their high quality products to Asia, Europe, Middle East, USA and other countries.
Why did they contact IKEUCHI ?
In spinning industry, the thread needs to be protected. The best method for that is to have a certain level of moisture. Thanks to moisture, the yarn will have a better quality. It's why having a good level of humidification is important in textile industry.
But Mr. William Halim, our client, had precised requirements to satisfy:
The cones need a uniform humidity to sustain an even quality of the yarn.
They should never be wet, and we should avoid any form of dripping.
System used for this application
Our AKIMist®"E" spreads a Dry Fog that humidifies indoor environments without wetting. It represented the perfect solution for William, who needs a humid environment without wetting the cones.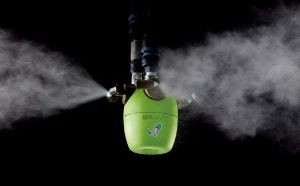 The AKIMist®"E" produces ultra-fine "Dry Fog" for humidity control in various industrial applications. We call our Dry Fog "non-wetting fog" because it only contains really small droplets. The tiny droplets (10 microns) evaporate before reaching any surface. Therefore, it can achieve humidification in an area without the risk of wetting. The AKIMist®"E" can spray the Dry Fog over 4 meters and can cover a wide area with a single unit.
Why did William choose products from IKEUCHI?
IKEUCHI was quick to respond.
The fog is ultra-fine.
It's provide uniform humidity.
It's non wetting or dripping.
Customize proposition.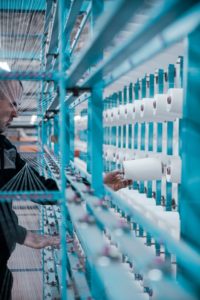 Results of the AKIMist®"E"
With the AKIMist®"E" system, the targeted level of moisture was achieved. The humidity increased from 50% RH to 90%RH, and the moisture content of cones got up from 6% to 7.5%.
The floor and surrounding equipment did not get wet.
The total cost of purchase and installation of the AKIMist®"E" system was about 9.000 €, but JJSW quickly achieved a return on their investment as the operating costs are inexpensive (according to William). Indeed, they forecast a profit increased by 135,000.00€ per year given the outstanding results.
Benefits
Better yarn quality  (no tears or breaks)

Increased profits

Satisfaction of the customers buying the yarn

Positive feedback

New opportunities for growth / expansion

Improved productivity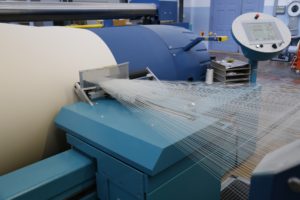 You can also read this article to have free information about the Humidification System in the spinning industry.