The Dry Fog humidifier AKIMist®"E" in wine cellars

Customer Testimonial: Domaine Annie Gavignet
Annie Gavignet is a wine maker from the Burgundy region, in Comblanchien, in France. She comes from a famous wine producing family. She followed the path of her grandfather, Honoré Gavignet, a legend in vinification during his time working in the DRC (Domaine de la Romanée-Conti). She kept on the family tradition based on the same philosophy handed down from generation to generation: "to produce wine that we truly believe is delicious when tasting it ourselves". Thus, her production is adapted to her taste, producing a delicate and elegant wine.
Problems the customer was facing
Wine evaporation
Dry air
Less alcohol in the wine
Less taste
In wine cellars, wine evaporation is a daily phenomenon (Angel share). More the humidity goes down, more wine evaporates. That is why humidifying the air in this sector is very important. 
Therefore, when Annie Gavignet was searching for a solution to humidify the air and IKEUCHI contacted her with a solution, she didn't hesitate to try the Dry Fog humidifier AKIMist®.
When the AKIMist® is sprayed, the humidity rises quickly without wetting the barrels, and the soil remains dry.
It was what Annie Gavignet wanted and she install it.
System used for this application
Our AKIMist®"E" spreads a Dry Fog that humidifies indoor environments without wetting. It represented the perfect solution for Annie, who needs a humid environment.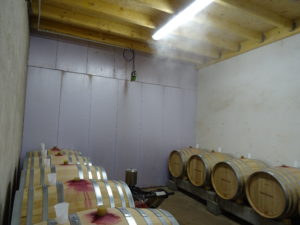 Why did Annie Gavignet choose products from IKEUCHI?
Effective solution

Easy to use 

No extra work

Compact product

Personalized advice

Effective demonstration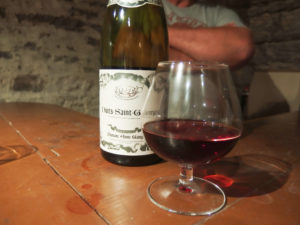 Results of the AKIMist®"E"
With the AKIMist®"E" system, the wine cellar has a stable humidity level maintained between 60 – 65% relative humidity. This greatly reduced the amount of wine evaporation.
Before, Annie needed to top the barrels with wine every 2 days. Now, it is only once every 7 days. She saves 130 bottles per year and was able to refund this system in 1.5 years. She has also noticed that her wine was fruitier with less bitterness and roughness.
Benefits
Better wine quality

Time saving

Purified air

Increased the wine sales

Reduced the labor