Pollution Control
Suppress dust for Environmental Protection
Common issues with dust particles as air pollution
Airborne contamination in the working environment
Health problems
Solution: Spray Nozzles to suppress dust for environmental protection
Pneumatic spray nozzles are capable of dust suppression without significantly wetting the environment by swiftly spraying a large volume of droplets of 20 to 100μm diameter.
Before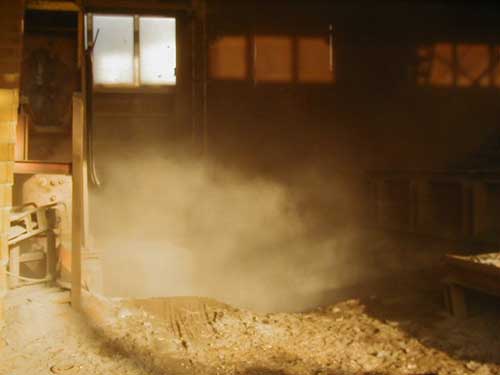 After installation of nozzles to suppress dust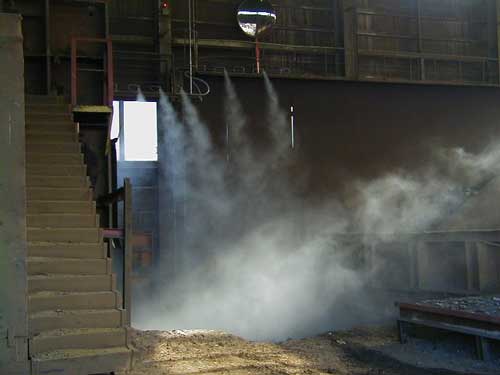 Example of Systems / Products used for this solution
Fine fog pneumatic spray nozzles
BIM series  Pneumatic Fine Fog nozzles series
GSIMII series  Large Capacity Fine Fog Nozzles/ Full Cone Spray
Benefits
Dust content reduced by more than 90%
Control of the airborne contamination for a better working environment
Advantages of the solution to suppress dust
Unique design of BIM series greatly minimizes clogging
Energy-saving design of GSIMII series
Fewer parts than typical nozzles for easier maintenance
Other applications for these nozzles
Related article
Suppressing dust by spraying fog has a double advantage for the workers' health. Not only it cleans the air by suppressing the airborne contamination, but it also control the humidity level indoors. Increasing the humidity level will decrease the absenteeism rate. Have a look to our news article to understand the effect of humidity on the health:
Case Studies
We've several success installations around the world for this application. As our website is constantly developing, we are currently working on increasing our Case Studies and Customer Testimonials on the Project page. We will post soon a successful installation that suppress dust in a factory (recycling plant, steel making plant, etc.).
Meanwhile, don't hesitate to contact our engineers to submit your factory plant and issues. We will customize this solution depending on your criteria and working conditions.