March 24, 2020
Our AKIMist®"E" for disinfection and sanitization

How our AKIMist®"E" is used for disinfection and sanitization?
In Italy, our Dry Fog Humidifier AKIMist®"E" with Mendizza Water & technologie portable tank unit is used to disinfect and sanitize public areas with RENTACS ITALIA chemical liquid.
In Slovakia, RealTime Technologies is using the Dry Fog humidifier with their own portable unit for disinfection of public areas and electronics industries.
It breaks down bacterial and viral loads from surfaces and helps to maintain healthy environments.
We have two type of AKIMist®"E" which can be used for this purpose:
UPDATE
Our partners in Europe are helping to fight against the spread of the current pandemic COVID-19 by combining our atomizing technology with a chemical disinfectant approved by the EU commission to be effective against Corona Virus and other Bacterial, Viral and Fungal airborne infections.
If you are interested in this solution, don't hesitate to contact us. We will help you find a solution for your country.
AKIMist®"E" with stainless steel nozzle tips (04E)
This model is in PP (polypropylene) with the 04E nozzle model made of S303 (Stainless Steel 303), PPS (polyphenylene sulfide) and FKM  (tetrafluoroethylenepropylene rubber).
It is used in Italy with a H2O2 solution for disinfection and sanitization (see video below).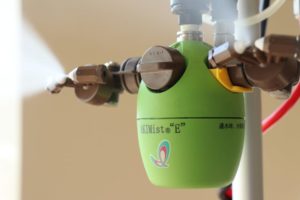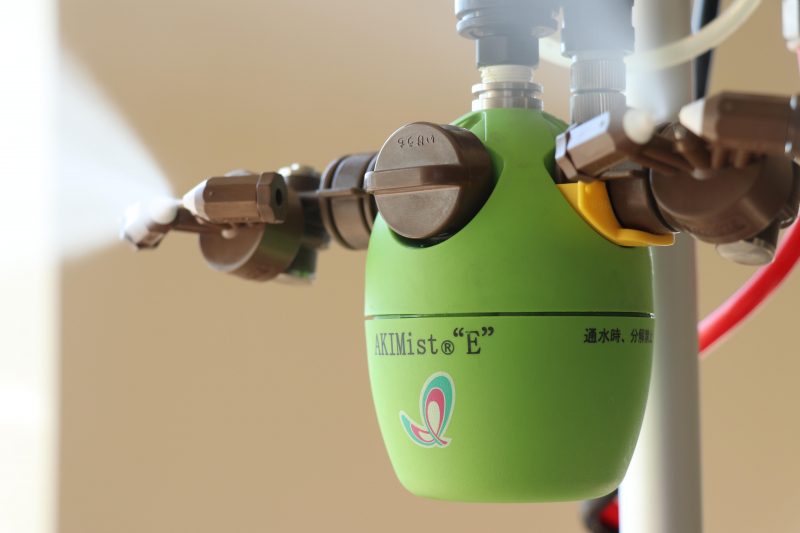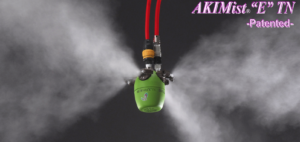 AKIMist®"E" TN (03C)
This model is in titanium (TB340), PP (polypropylene), PPS (polyphenylene sulfide) and FKM  (tetrafluoroethylenepropylene rubber), which makes it more chemical-resistant.
Those materials are applied to parts which are in contact with the chemical liquid, for spraying of chemical solution.
Applications:
Disinfection, sterilization, sanitization in food factories, hospitals/pharmaceutical plants, and public areas.
Slovakia
Our partner RealTime Technologies got a press coverage about the usage of our AKIMist®"E" humidifier for the disinfection as the coronavirus killer.
Read the original article in Slovakian
Below is the article translated in English:
Coronavirus killer already in Slovak production companies and shops
Classifieds | Closing or not closing? This is a key question of Slovak manufacturing companies last days. Great pressure from trade unionists especially appeals to high health risks for employees.
Management argues that they are taking all available measures. But how can we convince workers and trade unionists that they really have nothing to worry about? For example, disinfection that kills viruses with confidence – with the Japanese AKIMIst sprayer.
Manufacturing businesses must continue to operate. With maximum protection for employees against the new coronavirus. The very basis is (in addition to strict personal hygiene) the disinfection of the premises. On the Slovak market, we have a dry mist sprayer that will penetrate the room every year – AKIMIst E. This humidifying system sprayes microscopic drops smaller than 10μm, ie "dry mist". The drops of disinfection are so small that they allow disinfection without wetting the environment. So you can disinfect several times a day, even during full operation. And employees will not have the uncomfortable feeling of dropping the unknown fluid on each other.
AKIMIst from world-renowned IKEUCHI is a proven product with 60 years of tradition and high Japanese quality. Especially in recent times, it has been one of the most effective tools to combat new, destructive viruses, many of which originated in Asia. The avian influenza SARS or the Asian flu helped to improve AKIMIst in the most crisis situations.
Coronavirus killer in action
Now it intensively helps AKIMIst to fight the new coronavirus. In Slovakia it is used for disinfection of Bratislava shops and warehouses of the dm drugstore network. However, it is most visible in the country that suffers most from the new coronavirus – Italy. Here the government, together with a disinfectant container, uses it to fight the new coronavirus for disinfecting and cleaning public spaces.
It's not just a coronavirus. AKIMIst spray systems from IKEUCHI will also help increase humidity in production halls or work areas. Especially in winter, it often falls below 20%, which can cause health complications to employees, but also increases the risk of electrostatic charge, which can damage products. Last but not least, it minimizes the risk of spreading other, common diseases such as influenza to the workplace.
"IKEUCHI has a number of advantages over other systems we used before (high pressure, steam humidification). First of all, I would like to appreciate its SAFETY, almost no costs associated with its servicing and operation, as well as the way of distributing dry mist (spraying water with compressed air) – even spraying without dripping and spraying water, " says Tomáš Kulich, ENICS Slovakia, sro
AKIMIst Sprayers in Slovakia are distributed by Realtime Technologies , an international specialist in industrial technology. In addition to Slovakia, it also operates in the Czech Republic, Romania and Ireland.
IKEUCHI humidification systems offer solutions tailored to the specific needs of each industry. Contact an expert Karel Džupa to help you find the right solution for you – dzupa@realtimetec.sk, 0948 654 022.
With a 20 L tank, this disinfectant unit is easily portable, with a quick and easy installation for immediate usage.
The fine fog sprayed with chemical solutions* prevent viral infection from spreading.
*FYI,  we do not provide the chemical solution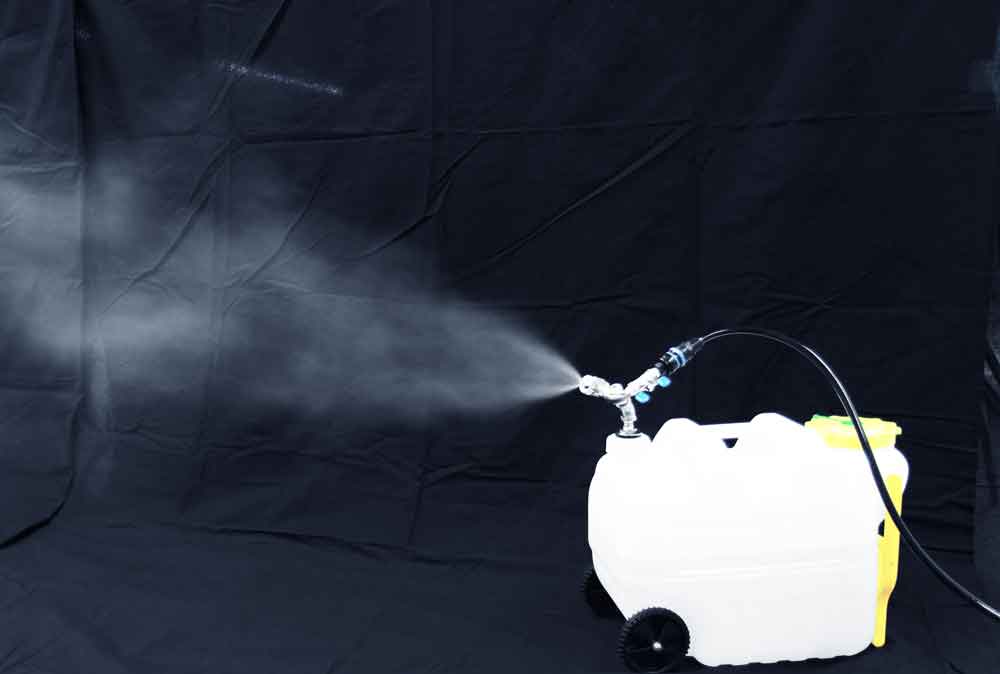 Success story
It is already used in Nishiwaki City Library in Japan!
Installed at the entrance of the facility, it automatically sprays a hypochlorous acid water to disinfect and neutralize the coronavirus infection.
The sprayed disinfecting solution is said to be highly safe for people, therefore, it's been directly sprayed towards visitors.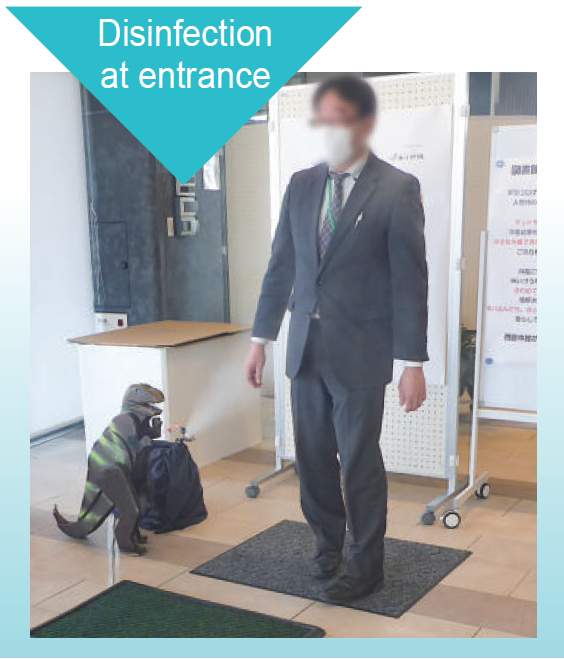 Our Dry Fog Humidifier can be used for disinfection and sanitization but we don't provide the chemical solution.
To know which model is the more adapted for your utilization and the chemical liquid you want to spray, please contact one of our engineers.
We will find the best solution for your application.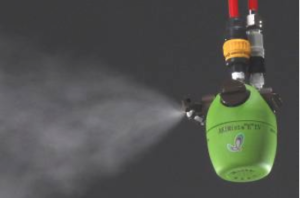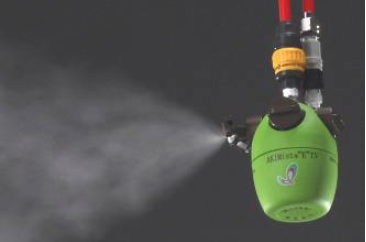 Contact one of our engineers to choose the right AKIMist®"E" model.
Nina Monceaux – IKEUCHI EUROPE B.V.
If you are located outside the European Union and the European Economic Area,