Universal ball joint adaptor
UT series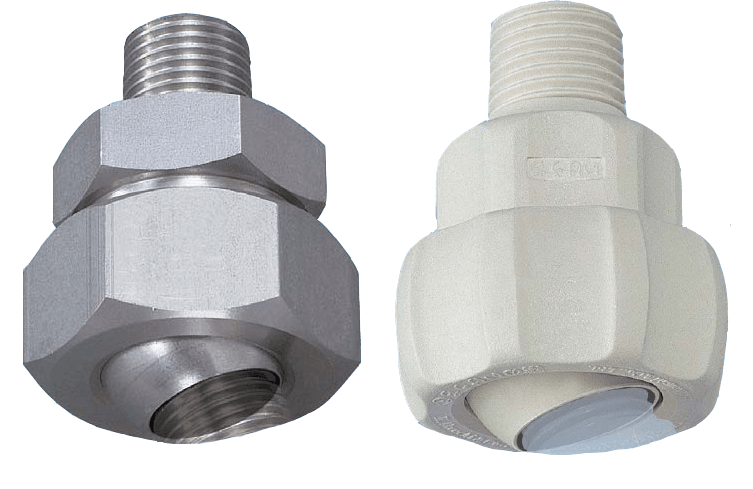 The UT series adaptors' features:
Allows adjustment of spray direction over a range of 50 degrees as desired.
[Metal type]
Withstands pressure design. Available from 1/8″ to 3/4″ in pipe connection sizes.
Use UT-S303 (stainless steel 303) at pressure under 15 MPa (ca. 150 bar).
[Plastic type]
Lightweight, high seal performance. Spray direction is adjustable while spraying (up to 0.3 MPa, ca. 3 bar).
Use UT-FRPP at pressure under 1 MPa (ca. 10 bar, at room temperature).
Cautions for both types:
Do not use under conditions where water hammer or sudden change of water pressure occurs.
For use with KB and KKBP series nozzles, a different type of UT Ball Joints are required. Inquire with us for details.
Note: The above photos are UT Ball Joints with spray nozzles attached.
Download CAD model
Contact us
Stainless steel 303 or Glass-fiber reinforced PP (FRPP)
The UT series adaptors are used for:
Accurate nozzle alignment is possible after connected to a pipe.
Where large changes in spray direction are required depending on nozzle application such as cleaning and air blowing.
More information?
Do you want to order this product? Or request a quote?