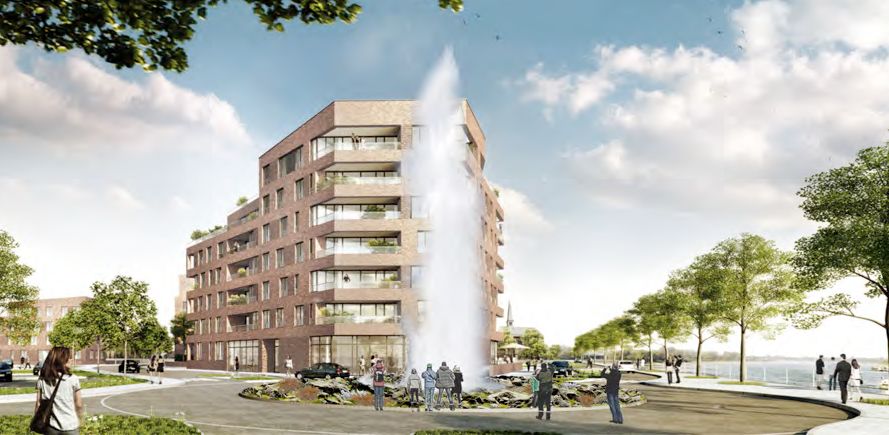 Geysir Monheim
The Geyser Monheim is an artificially made geyser which suddenly erupts when the weather conditions fits. It takes at least 64 hours of sunshine and the right wind and temperature before it will erupt. No one know exactly when which makes you lucky if you see it. The water can reach up to 12 meters high. The geyser is located in Monheim am Rhein, in Germanyand was designed by the artist, Thomas Stricker.
TCW Anlagenbau, a German partner of Ikeuchi, was chosen for this project. TCW Anlagenbau has a lot of experience with water fountains and water landscape projects and has been carrying projects out across Europe since 1986.
Project outline
The artist, Thomas Stricker, wanted the geysir to be surrounded by fog whenever it's not erupting. This maintains a mystical atmosphere around the spot. TCW Anlagenbau has created this fog effect by applying 30 KB nozzles from Ikeuchi. TCW Anlagenbau prefered to use the KB nozzles because of their high wear resistance. Since these nozzles are outside 24/7 they need to be solid. KB nozzles have a ceramic orifice which ensures a high resistance to corrosion, chemicals, abrasion and high temperatures.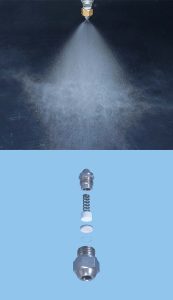 The KB nozzle
An ultra-small capacity spray nozzle with the finest atomization among hydraulic nozzles
Hollow cone spraying pattern
Economic alternative to pneumatic nozzles
The whirl chamber is formed by a ceramic orifice and closer, which provides excellent wear resistance
The great advantages of nozzles made of advanced ceramic are their high resistance to corrosion, to certain chemical, to high temperature, to abrasion, and its enhanced toughness.
Find it here
Outcome
The project was finished in 2022 and has since then become a major tourist attration. The geysir is able to stop everyone in their current activity to watch the magnificent outbreak. It has become a place where people connect as a community.
Read more about the Geysir here 
Read more about the advantages of ceramic spray nozzles here