Pollution Control
Exhaust gas cooling nozzles
Common issues with Gas Cooling process
Clinker issue for cooling tower and nozzles
Risk of corrosion
Nozzles dripping (excess water)
Problems caused by dust adhesion to interior walls or around outlet of gas cooling tower
In an installation where the  gas and sprayed water is coming from the top of the tower:
Unvaporized-water drainage needed from the lower part of the tower due to excess water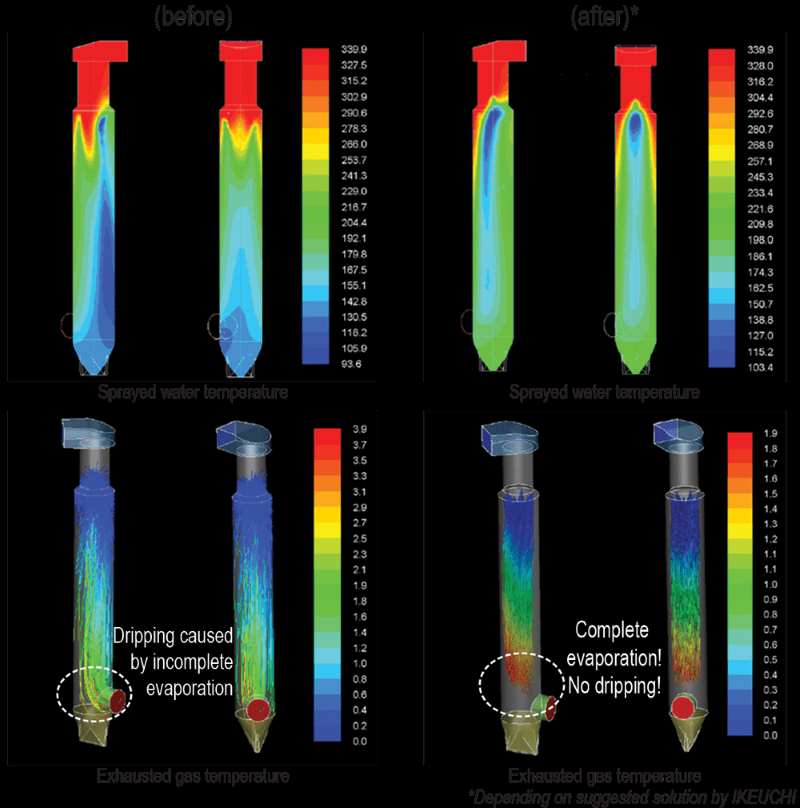 Solution: Innovative Gas Cooling Nozzles
We understand the significance of droplet size and full evaporation in gas cooling towers to ensure maximum cooling effect without extra drainage.
Therefore, we have a wide range of nozzles with different droplet sizes, spray capacities and spray angle to suit every request.
Customers realize lower running costs and minimal maintenance downtime with our clog-resistant nozzles and wide range of material options.
Example of Systems / Products used for gas cooling nozzles
ASPB series – Air-assisted Spillback Nozzles [NEW]
GSIMII series  Fine Fog Pneumatic Spray Nozzles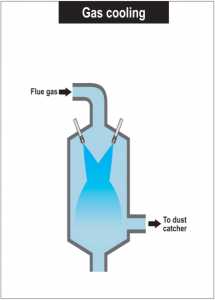 SPB series  Spillback Nozzles
Benefits
Effective cooling with full evaporation
Minimal maintenance downtime

Lower running costs
Advantages of the solution
Clog-resistant nozzles
Wide range of material options like for anti-corrosion Titanium material, Hastelloy® or other
Wide range of spray capacity with minimal variation in droplet sizes and excellent atomization
Energy-saving nozzles with a low consumption of compressed air
For an installation of the nozzle horizontally from the side, the high-velocity fog reaches the center of the gas cooling tower without being disturbed by the exhaust gas flow
Other efficient installation is possible with different angle / positioning of the nozzle based on our recommendation and your plant's layout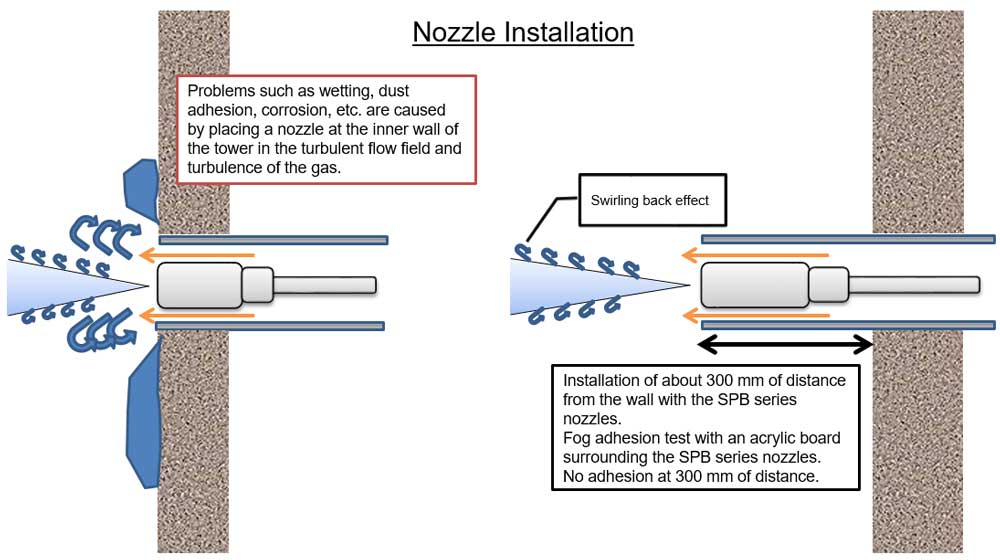 Other applications for these nozzles
Cooling: Gas, moldings, refractories, incinerators (flue gas desulfurization), cement factories, glass factories, blast furnaces, iron works, blast furnaces (dry dust catcher)
Moisture control: Flue gas, concrete, paper, cardboard, blast furnaces (water spraying to hot blast stove)
Combustion: Oil, waste fluid
Chemical reaction: denitration
Iron making process: Cooling flue gas before gas turbine, Cooling refractories at maintenance, Dust suppression at casting of pig iron
Steel making process: Cooling converter shell at maintenance, Flue gas cooling on electric furnace, Dust suppression at casting of steel
Rolling mill and surface finish process: Cooling flue gas from heating furnace, Dust suppression on rolling mill outlet