Multi-orifice spray nozzles
7-head full cone spray for an extremely fine atomization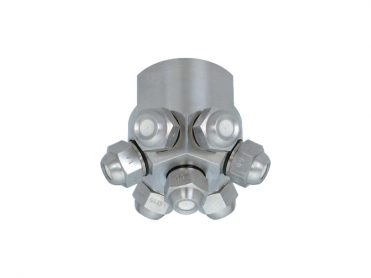 7KB series
7KB series
7-head full cone spray for a round-shaped spray area
7JJXP series (Made-to-order)
7JJXP series (Made-to-order)
Multiple-orifice semi-fine fog nozzle for fire extinguishing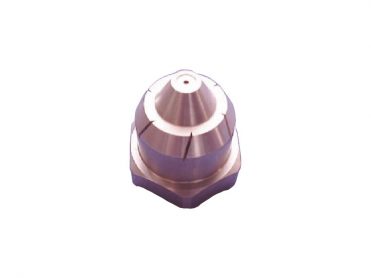 TSP series (Made-to-order)
TSP series (Made-to-order)
Multi-orifice spray nozzles are specially-designed full cone nozzles belonging in the hydraulic nozzles category. Another title of the multi-orifice nozzles is compound spray nozzles, as it contains multiple spraying headers into one body.
Furthermore, by equipping the nozzles with a full cone spray pattern, the spraying of droplets forms a full cone-shaped pattern, with the origin point at the nozzle's orifice. That is why we recommend this type of spray pattern for certain industrial applications, as the liquid's distribution is even on a certain surface. For example, this spray pattern is useful when it comes to spraying a cooling liquid on a still surface.
What is the purpose of the multi-orifice nozzles?
The classification of our multi-orifice full cone nozzles does not belong to a specific category. The design of every single one of these nozzles for very specific applications. Moreover, they are suitable for niche applications that could not find a proper solution among the standard and typical nozzle versions. That is why it is definitely worth checking out if your applications are challenging and you have trouble finding a suitable nozzles to reach the maximum efficiency.
What are the main applications suitable for these nozzles?
The manufacturing of these type of full cone nozzles has been made possible for special and distinctive applications, such as:
Gas cooling
Cleaning
Moisture control
Humidification
Dust suppression
Fire extinguishing and prevention
At IKEUCHI, we provide the fundamentals to select the optimal nozzle for your application based on their characteristics. When selecting the nozzle, we advise you based on your required spray angle, spray capacity, optimum spray pattern, and spray distribution.
If you have technical question about nozzles, need advice to choose, or request a quote,