Multiple nozzle adaptor
Plastic adaptor with 7 outlets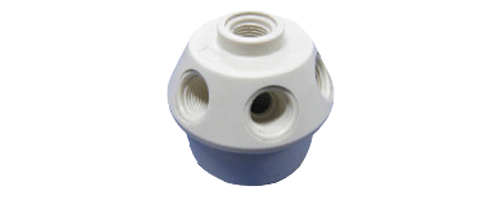 The plastic adaptor with 7 outlets' features:
A plastic adaptor that can attach multiple spray nozzles.
Up to seven nozzles are attachable; maximum spray capacity is 84 L/min (at 0.3 MPa, ca. 3 bar) when seven spray nozzles with 12 L/min spray flow rate each are mounted.
No piping work is needed. Easy installation.
Lighter weight, compact.
Heat-resistance: 80℃ (176 ºF).
Pipe connection size for inlet: Rc 3/4″ (3/4″ BSPT female threaded).
Nozzle connection size: Rc 1/8″ (1/8″ BSPT female threaded).
Note: The upper-right photo is a seven-outlet plastic adaptor with spray nozzles mounted.
Contact us
Glass-fiber reinforced PP (FRPP)
The Plastic adaptor with 7 outlets has multiple applications:
Spraying: Chemical washer, Rain tester
Washing: Beverage tanks, Pasteurizer
Others: Water fountains, Entertainment, Mist sauna
More information?
Do you want to order this product? Or request a quote?