Pollution Control
Spraying nozzles for NOx reduction
Common issues with NOx reduction
Industrial factories have a legal obligation to control industrial pollution (EU VII) regarding the amount of NOx emission. Facing air quality law, waste management law, and health issues, the industrial companies are aware of these strict regulation.
Thus, the implementation of spray nozzle / injection lance for NOx reduction is common in Pollution Control to purify the air through a catalytic reduction. Within this process, the selection of the spray nozzles plays a critical role as their performance has a direct impact to the level of efficiency regarding the NOx reduction.
Moreover, multiple external and internal issues can occur that can affect nozzles and the emissions. Factors such as heat, clogging issues, exterior deterioration can damage the nozzles, requiring an additional investment to maintain them.
Where our nozzles can be implemented:
Applications for SNCR (Selective Non-Catalytic Reduction): Cement plants, waste incinerators, cool power stations
Applications for SCR (Selective Catalytic Reduction): Ships, power plants, gas engine power plants
Example of Systems / Products used for this solution
DOVVA-G series  Flat Spray Pneumatic Spray Nozzles for SNCR with semi-fine atomization to optimize the reaction with ammonia water
SETOJet series  Clog-resistant Fine Fog Nozzles for SCR to reach full evaporation with smaller droplets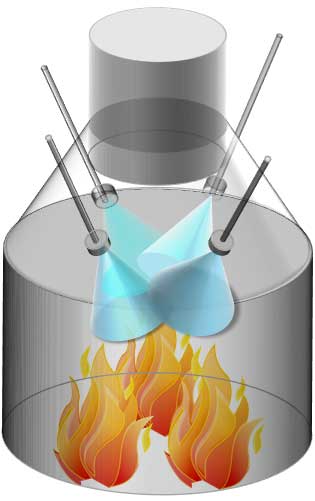 Benefits
Fine atomization for efficient reaction
Less maintenance cost with a less clogging structure against urea precipitation (SCR) and long-life usage with protective equipment (SCR/SNCR)
Energy saving with low air consumption
Advantages of the solution
Custom-built solution with nozzle lances, flanged connections, and other optional mounting systems to meet each specifications
Long-life usage thanks to the optional equipment to protect the injection lance
Clog-resistant design
Various option of spray capacity and angles to cover a wide area with an even distribution
20 years of good reference with over 2.000 pcs of lance nozzles (DOVVA-G series) supplied in Asian countries yearly
Other applications for these nozzles
Denitration: Gas cooling
Moisture control: Flue gas
Combustion: Waste water

Spraying: Oil, lubricant, mold release agent, honey. aqueous urea, rust preventive, glaze, viscous liquid, slurry
Research and Development
We, at IKEUCHI Group, gathered the knowledge of the damages done to analyze them and offer solutions to ensure a longer life-time of our products.
Example of some damages observed:
Heat damages: figure 1 of an injection lance used for 1 month in a boiler tube with ca. 1000°C
Clogging issues: figure 2 of a clogged nozzle tip with crystallized urea
Exterior deterioration: figure 3 of a damaged nozzle tip due to fly ash particles scrubbing against it and changing its shape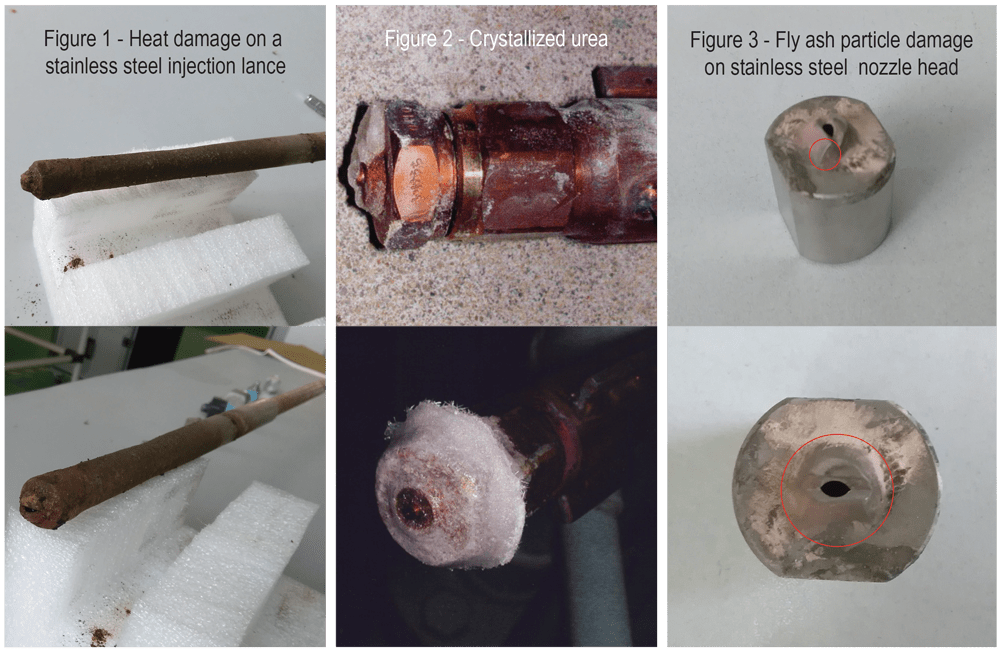 Solution: Optimal injection lance with protective equipment for a long-life usage
In order to control "air contamination" worldwide, our R&D department produce optimal injection lance. The performance of our nozzles is a key factor for IKEUCHI, thus, we have been developing heat resistance nozzles (from 400°C up to 1,000°C heat resistance) with clog-resistance design and even spray distribution.
In addition, we offer optional equipment to protect them: Protective air tube, Water-cooling jacket, and Retracting mount equipment.