Clog-resistant pneumatic nozzles
Our clog-resistant pneumatic nozzles are compressed air pneumatic nozzles. Compressed air is a form of energy storage due to its ability to perform work when decompressed. The production of compressed-air is carried out, for the most part, with electric power through a compressor.
Why select our clog-resistant pneumatic nozzles?
Selecting the nozzles from IKEUCHI can present numerous advantages. To begin with, our pneumatic spray nozzles have a lower consumption of compressed-air flow. Because of their spraying efficiency compared to free exhaust pipes, it reduces the installation's operating costs.
Moreover, as their name suggests, these nozzles are clog-resistant. Some of these nozzles have two separate free passages for air and liquid, making it easier to remove the clogging residue. In the case of a one free passage, selecting the suitable diameter is a must. However, for these clog-resistant nozzles, they are also equipped with filter or strainers that can further aid with this process. The no-whirler design with a large free-passage diameter minimizes clogging while delivering the best results for your application.
To further continue, these models are made out of high wear-resistant and chemical resistant materials.  Thus, these pneumatic series nozzles are not only:
Clog-resistant;
Efficient;
Wear and chemical resistant;
But also spray a fine fog.
Depending on your necessities, you can select models that are equipped with a full cone or flat spray pattern.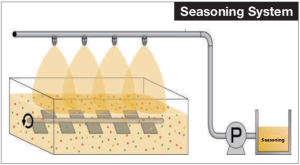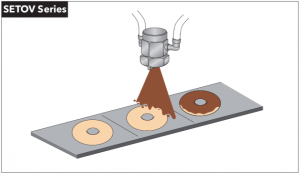 At IKEUCHI, we provide the fundamentals to select the optimal nozzle for your application based on their characteristics. When selecting the nozzle, we advise you based on your required spray angle, spray capacity, optimum spray pattern, and spray distribution.
If you have technical question about nozzles, need advice to choose, or request a quote,