External mixing type with piston
SETO-SP series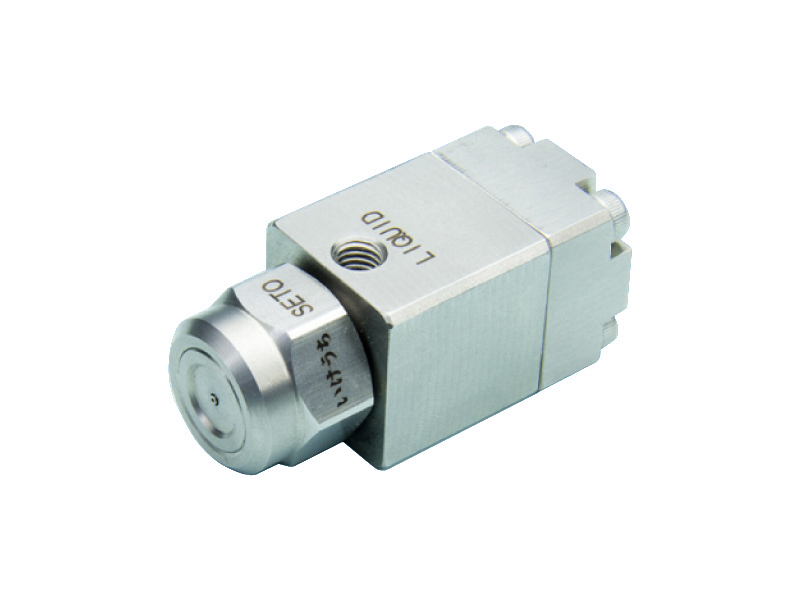 Liquid pressure, Liquid siphon
18 - 30 L/min, Normal(*1)
0.2 - 0.4 MPa (ca. 2 - 4 bar)
Liquid: 0.4 mm Air: 0.1 mm
The SETO-SP series nozzles' features:
Full cone spray pneumatic nozzle producing fine atomization with a mean droplet diameter of 60 μm or less (*1).
Clog-resistant design. Optimal for spraying viscous liquids.
No dripping from the nozzles when spray shut off.
Compact, 46 mm-long design.
By stopping the compressed air supply, controlled intermittent liquid dripping (pulse spray) is possible.
Liquid siphon feed type (liquid pressure device is not required). Use with the liquid pressure device is also possible.
*1) Measured by Laser Doppler Method.
The SETO-SP series nozzles have multiple applications:
Spraying: Mold release agent, deodorant, oil, surface treatment agent, rust preventive, lubricant, glaze, insecticide, aqueous urea, slurry