Spray pattern and width adjustable (flat / full cone)
SETOV-C series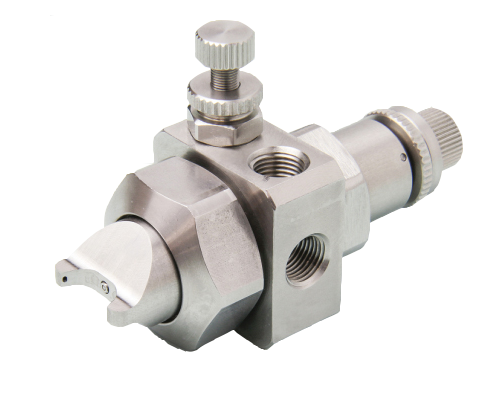 The SETOV-C series nozzles' features:
Pneumatic spray nozzle with adjustable spray width and spray pattern. When its spray pattern adjustable screw is fully open, it provides a flat spray pattern with the widest spray angle. When its spray pattern adjustable screw is fully closed, it provides a full cone spray pattern with the narrowest spray angle.
Excellent durability; on-off operation of spray for over 5,000,000 times.
Spray capacity can be fine-tuned without changing the present pressures.
Spray on-off is controllable.
Capable of spraying high-viscosity liquid of up to 1,000 cP. (*3)
Best for coating application with less splattering.
Durable stainless steel body for long-lasting use.
*1) When spray pattern adjusting screw and capacity adjusting screw are fully open
*2) Free passage diameter of the liquid inlet
*3) Viscosity 1,000 cP (centipoise) — egg yolk, medium-thick sauce, etc.
Contact us
Liquid pressure, Liquid siphon
33 - 151 L/min, Normal (*1)
0.1 - 0.4 MPa (ca. 1 - 4 bar)
The SETOV-C series nozzle is used for coating in several industries such as:
Food
Electronics
Chemicals
Paper making
Steelmaking
More information?
Do you want to order this product? Or request a quote?