Quick-detachable full cone spray (plastic & metal)
INJJX series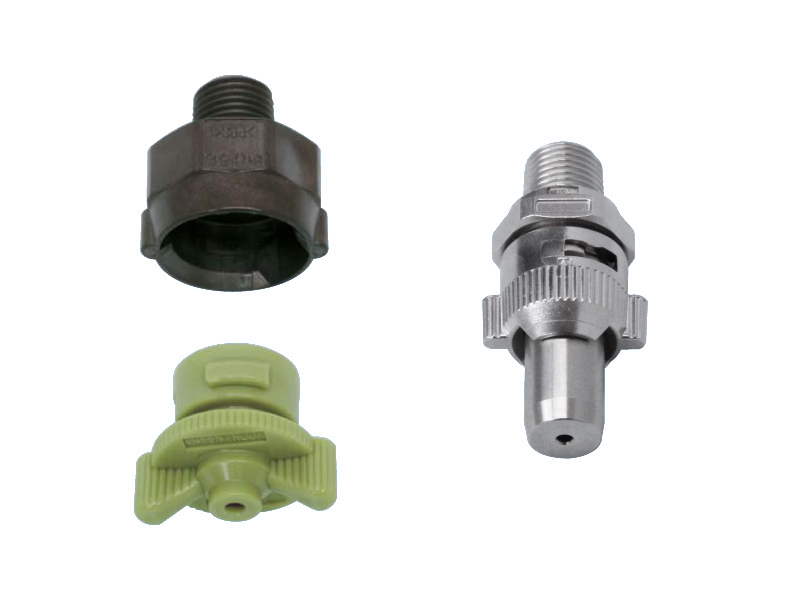 INJJX: R 1/8" - R 3/8", INJJX-SS: R 1/4"
INJJX: 65 - 75°, INJJX-SS: 55 - 75°
Download CAD model
The INJJX series nozzles' features:
Full cone spray pattern with a round impact area and uniform distribution.
Quick-detachable design helps to greatly reduce maintenance time. Whirler inside the nozzle is removable.
Easy mounting/dismounting with a knurled tab.
No falling off of tip or packing when removing the nozzle part.
[INJJX series (plastic)]
Made of high chemical and heat resistant PP (polypropylene).
Nozzle tips are color-coded by spray capacity for easy identification.
[INJJX-SS series (metal)]
Made of stainless steel which provides high heat resistance and durability.
The INJJX series nozzles have multiple applications:
[ INJJX series (plastic)]
Cleaning
Etching
Stripping
For the applications where precise spray alignment and/or periodic maintenance is required
[INJJX-SS series (metal)]
Cleaning: Machinery, eliminators, screen, tanks, parts, crushed stones, earth and sand, PCB, steel plates and pieces
Cooling: Tanks, roofs
Spraying: Wastewater treatment, aeration, foam breaking, dust suppression, chemical treatment
For the applications where precise spray alignment and/or periodic maintenance is required